Five things you should know about DirecTV NOW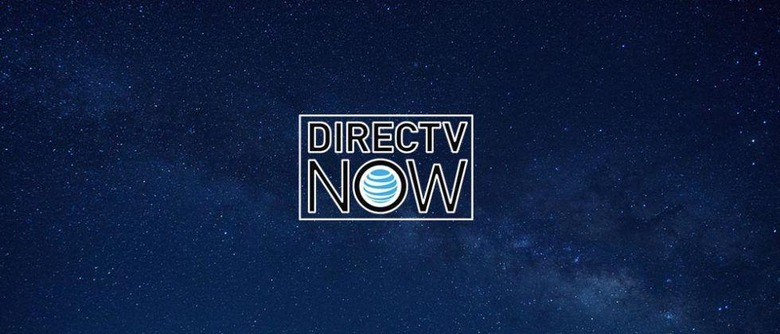 AT&T has officially unveiled its own live streaming television service: DirecTV NOW. The anticipated TV service is set to take on Dish Network's Sling TV and Sony's PlayStation Vue when it goes live on November 30, but it may not be adequate enough to replace those services at launch. There are a few things you should know about DirecTV NOW before making the switch, including details about DVR, channel lineup, and more.
Cloud DVR won't be available at launch
DVR functionality is a must-have for many users, and that makes the lack of cloud DVR functionality at launch quite disappointing. While DirecTV NOW will launch on November 30, you'll have to wait until sometime next year to get cloud DVR service, the only exception being a three-day watch period for certain content. This is in contrast to PlayStation Vue, which has long offered cloud DVR, and Sling TV, which just announced a planned DVR beta for Roku device owners.
Premium sports are lacking...for now
Sports are another crucial point for cable-cutters, and that makes the shortages with DirecTV NOW disappointing...though they, too, will change in time. It appears DirecTV NOW will have some sports networks at launch, including ESPN, NBA TV, NHL, NBC Golf, and some regional sports networks. You won't get access to NFL Sunday Ticket or Redzone at launch, though, a big issue for football lovers and a disappointment considering its currently football season.
There's no Roku support
DirecTV NOW supports all the big and popular platforms except for, arguably, the biggest and most popular of them all: Roku. You'll be able to watch DirecTV Now on your Apple TV, your Fire TV Stick or Fire TV, your iOS devices, Android devices, the three big Web browsers, and Chromecast and Cast-enabled products. But you're out of luck if you use a Roku Stick, Roku TV, or Roku set-top box.
The channel lineup
Another detail lacking at the moment is the exact channel lineup for the different tiers, but a promotional advertisement that surfaced provides most of that info. It seems the base $35/month plan will feature:
Fox News, CNN, Nickelodeon, MSNBC, Hallmark Channel, ESPN, Disney, HGTV, USA, TNT, Food Network, TBS, History Channel, Discovery, Disney Junior, TVLand, Nick Jr, AMC, FX, FXX, Bravo, Lifetime, Disney XD, Bloomberg, BBC America, Animal Planet, A&E, BET, Cartoon Network, CMT, CNBC, Comedy Central, FS1, ESPN2, E!, HLN, MTV, Spike, SyFy, VH1, Univision, TLC, and TCM + others.
The $50/month package will include those channels, plus Cooking, Science, Unimas, GSN, Comedy.tv, The Weather Channel, YES, Travel, IFC, CNBC World, NBCSN, ESPNEWS, MLB, Fusion, and some others, plus regional sports networks where possible.
The $60/month plan will include all of those, plus NBA.TV, FS2, NHL, DIY, NatGeo Wild, Oxygen, MTV Classic, BBC World News, Tennis, Discovery Family, NBC Golf, FXM, and other unspecified networks.
Finally, the $70/month plan will feature all of those, plus Starz Encore, Chiller, Cloo, Univision Deportes, El Rey, Boomerang, and more for a total of 120+ channels. HBO and Cinemax can be added on for $5/month each.
AT&T has a bunch of promos
AT&T is hoping you'll give its service a try, and as such is offering a bunch of promotions. Those who prepay for one month of service get a free Amazon Fire TV Stick, and those who prepay three months of service get a free Apple TV. As well, LeEco phone and TV purchases include DirecTV NOW bundled depending on the product: the Le Pro3, for example, brings three months of service, the Super4 X55 brings 6 months of service, and the uMax8 ecotv bundles 12 months of serivce.