DirecTV NOW unveiled: $35/month, mobile access, HBO add-on and more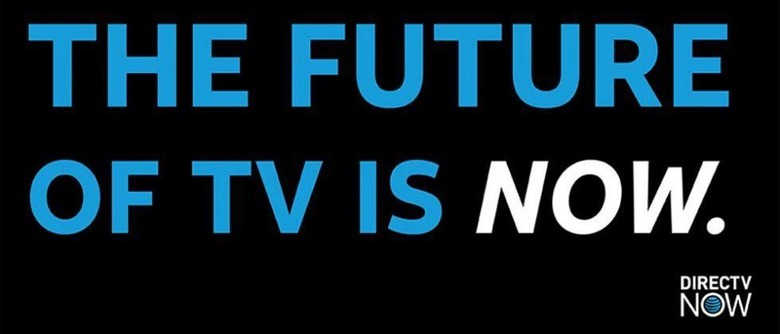 AT&T has introduced DirecTV NOW, a "completely new platform" that enables subscribers to stream live television over the Internet. The service allows users to stream up to two streams at once, and while it doesn't support 4K (for now, at least), it does target most of the features users want, with the pricing starting at $35/month for at least 60 channels. DirecTV NOW offers nearly all the big networks, including Viacom, Turner, AMC channels, and more.
Content is extensive, with base channel packs starting at $35/month for 60+ channels, with some others being add-ons like Cinemax and HBO ($5/month each in addition to the base package). During its event this evening, AT&T revealed that DirecTV NOW will give users access to Discovery Communications channels, Univision, Bloomberg, Fuse, Hallmark, NBCUniversal, Turner, HBO, Viacom, A&E Networks, Disney and ESPN networks, Starz, and more.
AT&T is also offering perks for users who purchase a certain number of months at once. Users who prepay for one month of DirecTV NOW will get a Fire TV Stick for free, and they'll get an "Apple TV product" for free if they prepay for three months at once. As well, AT&T wireless customers also get data-free TV for as long as they maintain their subscription.
Pricing is split into four tiers, all of them falling in line with competing services, more or less:
— "Live a Little" @ $35/month for 60+ channels

— "Just Right" @ $50/month for 80+ channels

— "Go Big" @ $60/month for 100+ channels

— "Gotta Have it" @ $70/month for 120+ channels
DirecTV NOW supports a wide range of devices, including Android and iOS phones and tablets, Amazon's Fire TV Stick and Fire TV, Apple TV, Chromecast and Cast-enabled devices, as well as web browsers Safari, Chrome and Internet Explorer. You can find out more about the service and sign-up here. The service starts November 30.
As with other live streaming television services, DirecTV NOW doesn't require any special hardware, doesn't require the user to undergo credit checks, and does not have any contracts. The company highlighted that as a major area of appeal, opening the doors for users who couldn't get the regular DirecTV service due to credit reasons, and those who avoided satellite television due to service contracts.