Fitbit Surge Leak Reveals "Superwatch" Aspirations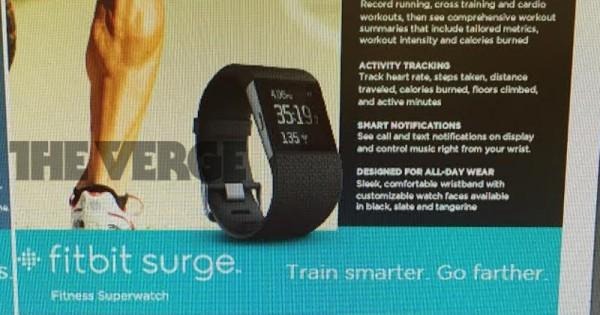 After a disastrous and embarrassing episode with the recalled Force wristband, Fitbit is unsurprisingly going to make a bigger, in a positive way, splash. Early last week we saw leaks that pointed to two new products coming soon, the Flex lookalike Charge and Charge HR. Apparently, Fitbit isn't done yet. The latest word is that the fitness company actually has a third member in the new batch, equally ambiguously named the Fitbit Surge. This "superwatch", as the leaks claim Fitbit calls it, throws in everything except the kitchen sink.
And by everything, we mean all those features that you'd need and want from a fitness band and then some. Like the upcoming Charge that means a cornucopia of sensors that will keep track of your running, steps, floors climbed, calories burned, active minute, sleep quality, and food intake, the latter of which has to be manually added by the user, of course. Like the Charge HR, it also has the PurePluse heart rate monitor built-in right into the wristband, removing the need for added accessories or chest straps.
What the Surge adds to this bunch is a built-in GPS. Now, while that might not sound groundbreaking for many who just pair their smartwatches or fitness bands with smartphones, it is a very desireable component for serious athletes, particularly runners. It gives them information such as distance, pace, elevation and whatnot without having to rely on the network and GPS connection of a smartphone. Like other Fitbit bands, this is supposed to promise 24/7 tracking, which means oodles of battery life, and connectivity with Fitbit's app and web ecosystem.
But wait, there's more! Fitbit Surge will also let you do some of the basic smartwatch-y stuff right on the display, like getting notifications for calls and messages and controlling your music player. Other than that, however, the "smart" functionality is quite limited. Oh, and of course it tells the time as well.
Is the Fitbit Surge ready to replace your smartwatch? Probably not unless you're a fitness buff that doesn't really mind making your watch less "smart" but more "super" in terms of health features. Plus, you'll have to be willing to pay the price, $249 according to sources, which is definitely much more than your current selection of smartwatches. Except for the Apple Watch, of course.
VIA: The Verge