First 13-Inch Retina MacBook Pro TV Commercial Launched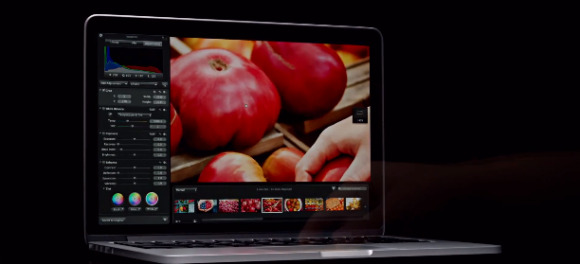 Apple announced the new 13-inch MacBook Pro with Retina at its event on Tuesday, and now its released the first TV commercial. Aired during "Modern Family," the 31 second advertisement features a slowly rotating Retina MacBook Pro and the tagline "For the pro in us all." The commercial is titled "Colors."
"Introducing the new 13-inch MacBook Pro with a stunning Retina display. For the pro in all of us." The commercial is as simple and elegant as it is effective, providing just enough taste for the sleek-looking device to catch viewers' attention while keeping the message cryptic enough to send the curious off in search of more info. The background is dark, amplifying the laptop's display.
This new MacBook Pro features a 13.3-inch Retina display with a 227ppi resolution of 2,560 x 1,600. To put that in perspective, the 15.4-inch MacBook Pro with Retina has a resolution of 2,880 x 1,800. The display offers wide viewing angles, and is exceptionally crisp. Check out our hands-on review for more info.
Screen aside, the 13-inch Retina MacBook Pro featurs a dual-core i5 processor and 8GB of RAM for $1,699. The model has a 128GB SSD drive, 802.11a/b/g/n WiFi, and Intel HD Graphics 4000. The device weighs in at 3.57lbs.