Firefox screen mirroring in the works: still an experiment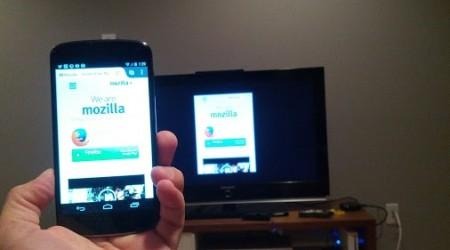 With the likes of Google's Chromecast selling of shelves for lack of a reason not to drop a few bucks on the concept, iterations of the idea like Mozilla's upcoming second-screen support for Firefox are popping up left and right. What we're seeing here is a very small and early version of what may be coming from Firefox web browsers in the future – the show you're seeing put on here comes from Mark Finkle of Mozilla, mirroring a Firefox web browser window on an Android device to a Roku on his large-screen TV.
As you'll see in SlashGear's review of Chromecast from earlier this year, there's very little that needs to be said about the device itself. It's simple. It needs a power source – plugged into the USB port on your TV or into the wall – and a full-sized HDMI port to bring video to your display. From there you control everything from your Android smartphone.
Meanwhile Roku has a similar solution with the Roku streaming stick which also plugs in to an HDMI port – MHL specific, in that case. This is quite likely the solution Firefox will be pushing your way before the end of the year. Of course they've made no such suggestion, but seeing the functionality already hitting this stage here at the end of summer has us laying bets.
What it would appear is going on here with Mozilla is an experiment in tune with the hacking the team did earlier this year to bring the Android version of the browser up to speed. While there's no indication at the moment that Firefox will be implementing this functionality in the same way Google does with Chromecast, there certainly will be some "casting" going on soon.
UPDATE: Sent to Engadget was the following message from Mozilla – they're coming up quick!
"We are conducting some experiments around second-screen support with a number of devices. But this is at investigation stage and we have nothing to announce at this time." – Mozilla Spokesperson