Finger-eating Bandai robot prompts Japanese complaints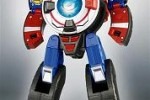 Oh, what utter fools we've been.  While everyone was expecting the robot invasion to come from the skies, wiping us out in sleets of laser beams (or maybe just nets) , in actual fact they're planning on taking us one piece at a time.  A Japanese 3-year-old has lost the tip of a finger in the deadly transforming limbs of a TV tie-in toy robot; apparently he's one of several young people affected by the finger-feasting monster.
The robot in question is one of Bandai's Engine Sentai Go-onger toys, based on the TV show of the same name, and which have already proved highly popular in Japan.  Over 170,000 of the robots – which retail at around $70 – were sold between September last year and this month.
Fourteen cases of children catching their fingers in the robots limbs – which can be twisted to transform it into an armoured vehicle, as shown in the video below – have been reported.  Bandai have apparently received 85 complaints from parents regarding the toy.
[via CrunchGear]