Ferrari adds Apple star Eddy Cue to board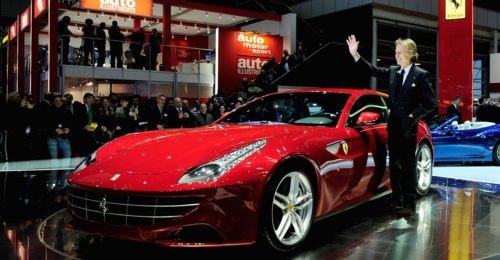 Apple exec Eddy Cue has joined Ferrari's board of directors, with the famous Italian car company saying the web services expert will help the marque with its internet savvy. Cue – who has owned a Ferrari for the past five years – was announced as an addition to the team today, with Ferrari's chairman describing him as "of the the main driving forces" in pushing Apple's product envelope.
Cue was among the roster of Apple execs gaining extra duties following the recent management shuffle, having previously been responsible for online services including iCloud, the Apple Store, and the iTunes Store. After the mix-around, Cue was also left handling Siri and Apple Maps.
"I am delighted that Eddy Cue, one of the main driving forces behind Apple's range of revolutionary products, has now joined our board" chairman Luca di Montezemolo said in a statement today. "His huge experience in the dynamic, innovative world of the Internet will be of great assistance to us."
Exactly what that will entail in the context of cars remains to be seen, though the growth of telematics in the auto industry has been notable in recent years. Connected car systems can not only deliver navigation, entertainment, and other information to the driver, but shuttle car diagnostics back to the manufacturer; that's something Ferrari already makes considerable use of in its F1 cars.
Of course, while the Italian company is perhaps best known for its bright red color schemes and throaty engines, it's also been pushing the envelope in technology. Recently the firm hinted that it was looking into potential implementations of hybrid powerplants, likely taking advantage of the impressive torque electric motors can deliver.
"I am pleased and proud to become a member of the board. I have personally dreamed of owning a Ferrari since I was 8 years old and have been lucky to be an owner for the past 5 years. I continue to be awed by the world-class design and engineering that only Ferrari can do" Eddy Cue
Ferrari announced record revenues of €1.76bn ($2.25bn) in the first nine months of 2012, up ten percent, and delivered 5,267 cars to dealerships, a rise of 6-percent.