Facebook's Vine Whine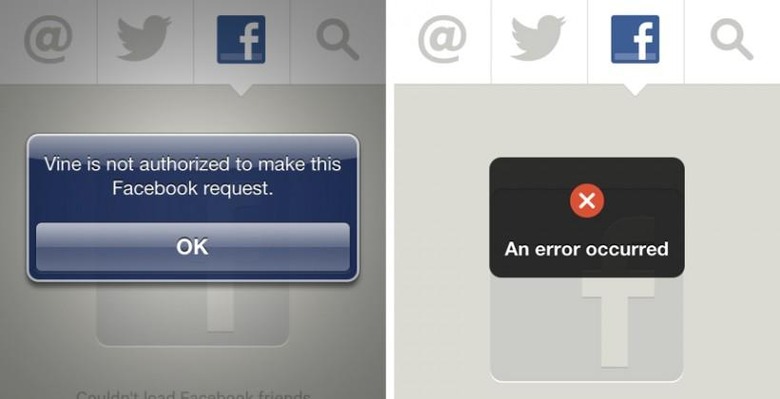 Twitter's new Vine social video service, a "video Instagram" of sorts for sharing six second blasts of video content, has fallen afoul of Facebook, with users blocked from raiding their Facebook friends for new contacts. Vine, which launched as a free iOS app yesterday, attempts to kickstart the sharing process by pulling in other users from Twitter and Facebook accounts; however, shortly after the app went live, those trying to import contacts from Facebook were faced with a message that the functionality had been disabled.
According to the original pop-up, Twitter's new app "is not authorized" to grab Facebook's data, leaving users facing manual adding of their friends on the site. That warning has since been changed to a more generic "An error occurred" dialog; there are also reports that Vine users have been unable to share their videos to their Facebook timeline.
A Facebook spokesperson told Mashable that the social network had no comment beyond the vague text of the error message. However, it's not the first time the company has yanked down the shutters to prevent rival social services from getting their teeth into Facebook data.
Back in August, microblogging platform Tumblr discovered its friend-finder functionality had been blocked by Facebook, for instance, while Android dropped native Facebook contacts sync in early 2011, after the social site refused to allow exports for backup purposes. Facebook isn't the only company to wage war with data access, mind; only a month before the Tumblr block, Twitter had thrown up a similar block to Facebook-acquired Instagram.
What remains to be seen is whether Facebook has a Vine-style short video sharing feature of its own in the pipeline; the company has proved adept at mimicking rival apps with its own, home-grown versions, such as happened with Snapchat-esque Poke last month. Expanding Facebook Camera or Instagram with brief video support would hardly be difficult.