Facebook's 'Download Your Information' in three easy steps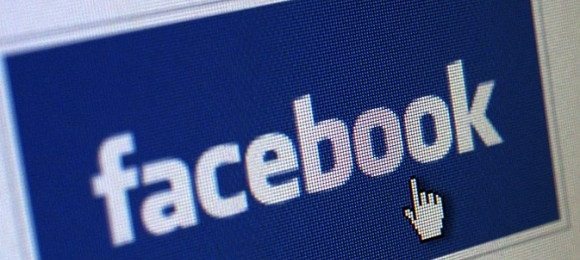 Those of you hearing about Facebook's ability to allow you one big download of all* of your information from the social networking site will be interested in knowing that it's been active for a while, and it's really quite simple to work with. The newest update to Download Your Information includes such new gems as your relationship status changes and Poke info. What it doesn't include is what the fuss is all about in the news today: the rest can be had with just a couple of button clicks.
The list of changes to the downloader we've come to know and love number to 13, *while naysayers are noting the actual amount of info Facebook has in regards to you, the user, is one whole heck of a lot more vast than they let on. What you can do right this minute is take a peek at the list as Facebook writes it and see if any of these details are things you've been wishing to see:
• IP addresses: Any IP addresses we have stored (this won't be all of the IP addresses that have ever accessed your account)

• Login info: A list of the logins we have stored (this won't include every login during your account's history)

• Log out info: The IP addresses from which you logged out

• Pending friend requests: Friend requests you sent and friend requests you received but haven't accepted or denied

• Account status changes: Dates when your account was reactivated, deactivated, disabled or deleted

• Poke info: Information about the pokes you've exchanged

• Events info: Events you accepted, declined, and responded maybe to

• The mobile phone numbers you've added to your account

• Your city and hometown (whatever is currently listed)

• The names of the family members you've listed on your account

• Your relationship info (names and statuses)

• A list of the languages you've added to your profile

• A history of any changes you've made to the name on your account
To actually access this info, you'll have to wait until the update has been pushed to you. That should take place inside the next few weeks – or it could be there for you today if you're lucky. Facebook notes that they'll be adding these bits to people's downloadable archive starting today and moving across the earth asap. The steps you'll be taking to get to your info are quite simple: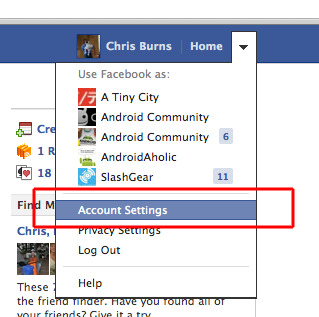 Head to your Account Settings in the upper right-hand corner of your Facebook interface.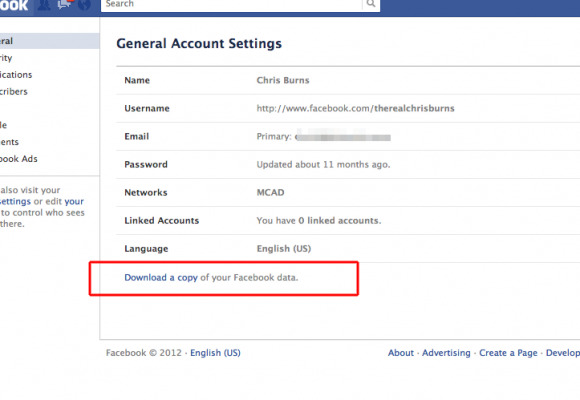 At the bottom of the list "General Account Settings" you'll find the "Download a copy of your Facebook data" link – click it.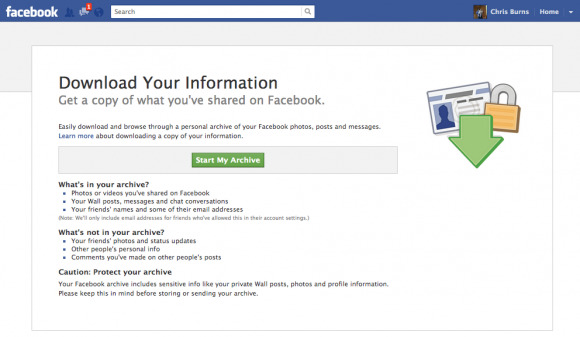 You'll be taken to the Download Your Information page where you can begin the archiving process. From here it's all Facebook packing up your info and sending it to you – easy as pie!