Facebook "Trending" Box In Testing As Twitter-Aping Continues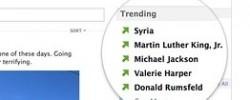 Facebook is trialling a new "Trending" topics section pulling together current hot topics on the social network, in a move that is unlikely to do anything to dismiss accusations that the site is copying Twitter. The new section shows around five currently topical subjects in the upper right corner of the Facebook news feed, though is "only available to a small percentage of US users" at present, a Facebook spokesperson confirmed.
"We are running a small test of a unit on News Feed," the spokesperson said of the system, describing it as "still in the early stages of development."
Sightings of the new box were first made on Thursday, and come some months after Facebook added hashtags to make finding common themes more straightforward. If Facebook users include a hashtag in a status then that post is automatically included for later topic searches.
However, whereas Twitter's privacy settings are relatively blunt – profiles can be either public or private – Facebook's approach is far more granular. By setting individual privacy levels, hashtagged posts have be prevented from showing up in public searches but still visible when friends or family look.
The new Trending section is part of a recent push by Facebook to surface more relevant, time-sensitive content to its users, especially those who might ordinarily miss out on stories. Facebook Story Bumping, for instance, saw a change to the core news algorithm which promises to ensure potentially interesting news isn't lost simply because the last time users opened Facebook they didn't scroll down far enough to see it.
Meanwhile, there are more collaborative features that have been freshly added, such as shared photo galleries that up to fifty people can contribute to.
Facebook has also made moves off of its own pages, offering the ability to embed stories elsewhere online. These embeds not only show the original news, link, photo, or other content, but access to comments, Likes, and reshares.
VIA WSJ