Facebook Timeline for brand Pages launches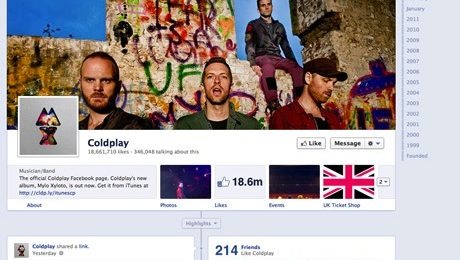 Facebook has launched Timeline-style profile Pages for brands, with larger photos, a greater emphasis on your own friends' activity on that Page, and news pinning. The update, which brings brand Pages in line with personal Facebook Timeline profiles, also includes a new activity log and administration hub, making it easier to track engagement and respond to private messages.
Facebook Timeline began rolling out as a mandatory upgrade toward the end of January, having been trialled for several months beforehand. The news came as a disappointment to many users, who felt the system opened up their history on the social network to greater view than previous iterations of their profile pages.
Timeline, however, seems tailor-made for promotional Pages, with oversized graphics and larger stories. There's also support for milestones, including a date and other content, and the ability to pin a story to the top of the page for up to seven days. Those stories which aren't proving engaging can be hidden from view, and those which are working well can be starred.
There are some rules, however. Cover photos can't be used as banners for promotions, like discounts or phrases like "Download it at our website", and they can't be used to show contact information such as a website address, email or phone number. It's also not allowed to use graphics that point to "Like" or "Share" buttons or include calls to action.