Facebook Privacy Checkup sheds light on sharing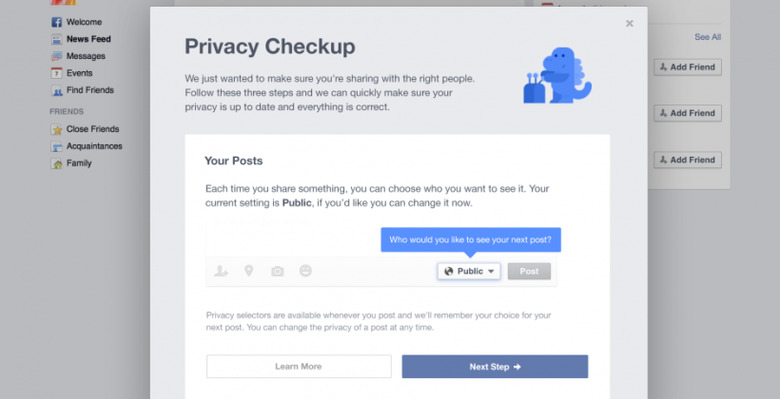 Facebook will run every one of its 1bn+ users through a new Privacy Checkup that flags up potentially unwanted sharing, as the social network responds to ongoing criticisms that it makes inadvertently spilling secrets too easy. The new tool, which will be rolled out to existing Facebook users over the next few weeks, highlights some of the primary concerns they have voiced, and highlights the options and settings which could help mitigate them. Meanwhile, there are changes afoot for new Facebook sign-ups, too.
Those succumbing to the lure of a Facebook account for the first time will find their default privacy settings different to what used to be the case. Previously, the default audience of the first post will be set to Friends-only, with a pop-up reminder that the setting can be changed to public.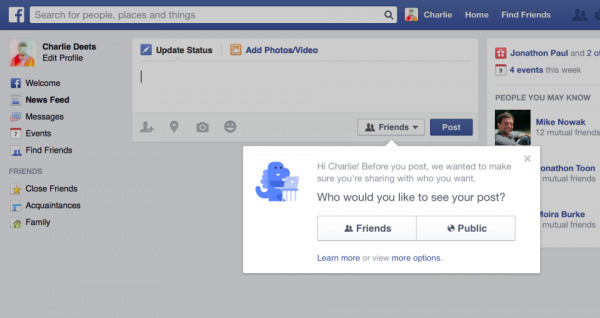 If the user does not change that setting, they'll be left on Friends-only for subsequent posts, too.
It's worth noting that, while the Privacy Checkup is new, the settings and options it will recommend are not. Instead, Facebook is using it to highlight some of the previous additions to its privacy arsenal, such as the reminder we spotted last March which notifies the user if they've not changed their sharing settings recently.
Meanwhile, there's also the option for anonymous login to Facebook apps, introduced back in April. That gave greater control over what information would be shared with third-party apps relying on Facebook credentials to access them.
SOURCE Facebook