Facebook Places Deals hits UK and Europe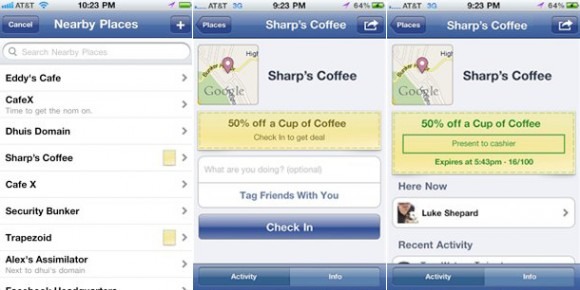 Facebook has officially announced Places Deals for the UK and Europe, extending the location-based discount and loyalty scheme first rolled out in North America back in November 2010. Users of the social network will be able to check into businesses such as shops, cafes, bars and restaurants, and obtain coupons and discounts in the process.
The initial roll-out will include partners in five European countries, including France, Germany, Italy and Spain; in the UK, Facebook is working with Starbucks, Argos, Alton Towers, YO! Sushi and even R&B star Usher. Users will be able to check-in via their smartphones, using Facebook's apps for mobile together with the touch.facebook.com site.
For more on Facebook Places, check out Ben Bajarin's analysis after the launch of the original North American version, and his views on whether we'll see a considerable uptick in LBS.
Press Release:
Facebook® Deals launches in the UK

From today you can check in on Facebook from your mobile and claim special offers, rewards and discounts from top brands. What's more by checking in you share these benefits with your friends on Facebook so they can take advantage of them too.

Part of Facebook Places, Facebook Deals helps you find offers in your local area from your mobile phone or discover money-saving tips from your friends through your News Feed.

If you're passing a Starbucks today you can check in and claim a free filter coffee; or head down to Debenhams on 14 February and check in to claim a free Benefit mascara & makeover. For Usher fans heading to the O2 Arena for the London dates of his OMG Tour this week, check in to get 20% off his album and a free remix from the official merchandise stand.

Plus if you check in on Facebook over the next few weeks you will be able to find launch offers from Argos, Alton Towers Resort, Benetton, Mazda, O2, and YO! Sushi.

Joanna Shields, VP EMEA, Facebook says: "We all love a bargain so whether you're on the lookout for a special offer at your favourite restaurant or tips from a fashionista friend about a discount on shoes in a department store, Facebook Deals will help you find it.

Facebook is built around people and sharing personal experiences and Deals is a great extension of this. By bringing valuable and relevant offers to you wherever and whenever you want them, Deals delivers a powerful experience that combines technology and location in a way that a pure online or offline experience could never deliver."

UK launch deals

You can find out full details including terms of their Deal on each of the brands' Facebook Pages...

Alton Towers Resort: On Friday 18 February, the Alton Towers Theme Park will open a day earlier than planned for the Half Term holiday, offering exclusive use for anyone who checks in on that day only. Tag up to 3 friends for free entry and the first 100 people to check in will also receive a free one night stay in one of the themed Resort Hotels.

Argos: From Monday 31 January, Argos will donate £1 to its national charity partner Teenage Cancer Trust for the first 10,000 customers that check-in at an Argos store this week.

Benetton: Benetton has chosen a Charity Deal to support Architecture for Humanity, an association which applies design and architecture to social projects. From 31 January 2011 and throughout February, Benetton will donate two pounds/two Euros for each Smartphone check-in in one of the 3000 Benetton stores involved in the scheme in the UK, France, Italy, Germany and Spain.¹

Debenhams: On 14th February, Debenhams and Benefit are giving away over 1,000 free mascaras and makeovers for the first 10 check ins at each Benefit counter at Debenhams stores across the UK.

Mazda: From 31 January to 7 March 2011, Mazda will be offering the chance to win 1 of 5 Mazda MX-5 Miyako's for the summer! Mazda is also offering the exclusive opportunity to buy an MX-5 with 20% discount.²

O2: From Monday 31 January, O2 is offering 10% off all accessories, including gaming kit in all stores. On Saturday 5 February, the first four customers will receive a free xbox 360 in 26 stores and the first two customers will receive a free Playstation3 in 18 stores when bought with any new or upgrade mobile consumer contract only.³

Starbucks: From 9.30am on Monday 31 January, the first 30,000 customers who check in to participating stores will receive a free tall filter coffee. Customers can also get a free piece of cake with the purchase of two drinks at participating stores on any Saturday throughout February.

YO! Sushi: From Monday 31 January, YO! Sushi is giving away 2000 meals to the value of £60,000. The first 1000 diners to check in at any of their 47 participating restaurants, tag their friend and show a member of staff their phone screen with the confirmation message receive complimentary food and drink.⁴

Usher/O2 Arena: Check in at the O2 Arena to get 20% off Usher's album and a free remix of Hey Daddy (Daddy's Home) from the official merchandise stand on the London dates of his OMG Tour this week.

Following the launch in the US in November 2010, Deals launches today in the UK, France, Germany, Italy and Spain.

How to find and claim a Deal

Finding deals near you is easy. Using your mobile browser on www.facebook.com or the latest version of the Facebook app, open "Places" and then click "Check In". A list of Nearby Places will appear and a yellow ticket will show next to Places that are offering deals.

When you touch the Place you can view the Deal and check in to claim it. Then just show your phone to the shop assistant or waiter to redeem your Deal.

You'll see a few different types of Deals: Individual Deals offer a one-time discount, free merchandise or other reward; Friend Deals offer deals that you and your friends can claim when you check-in together; Loyalty Deals reward you for being a frequent customer; and Charity Deals allow businesses to donate to a particular cause when you check in.

Notes

Facebook® is a registered trademark of Facebook Inc.

Please note that these deals come from the businesses themselves, not Facebook, so check with them at the location for more details; such as when they're running, how many offers are available, and whether a deal is just for you or also for your friends.

You can find out more about Facebook Deals at www.facebook.com/deals

You can also find our Places Guide at www.facebook.com/places and a video of how to check in on the Facebook UK Page at www.facebook.com/facebookuk