Facebook Live clones Periscope for celebrities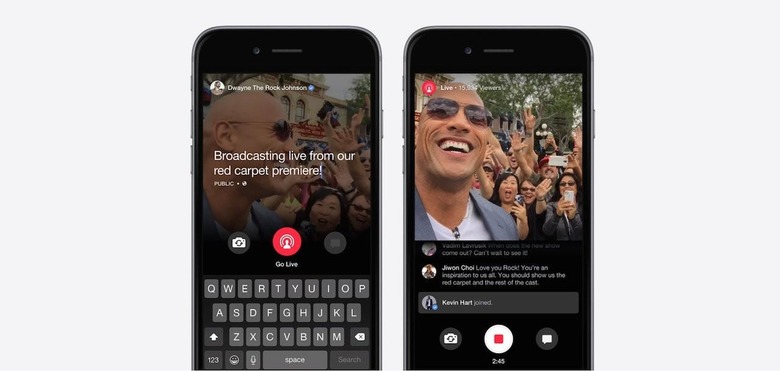 Facebook has launched its own take on Periscope, Facebook Live, promising to beam the celebrity perspective straight into your newsfeed. The service, limited to public figures with verified pages, turns the Facebook Mentions app into a livecaster: the real-time broadcast keeps track of comments and view counts, while the clips themselves are saved for post-stream viewing later on.
The big difference between this and existing services like Meerkat and Twitter's Periscope, of course, is that – for the moment, at least – Facebook Live is limited to a relatively small percentage of the social network's users.
Only public figures with a verified page, effectively meaning celebrities, musicians, and politicians, will be able to use it, just as with the Facebook Moments app launched back in 2014
There's already a list of famous people lining up to host their own streams, too. Facebook says that Dwayne "The Rock" Johnson, Serena Williams, Luke Bryan, Ricardo Kaka, Ashley Tisdale, Lester Holt, Martha Stewart, and Michael Bublé will all be holding Live sessions over the coming days.
The streams themselves support the front and back cameras on the iPhone – the only device Facebook Mentions is currently available for – and new Live sessions are automatically posted to the Facebook wall.
There, they can be Liked, commented on, and shared as usual.
Whether Facebook decides to open up Live to "normal" people at some point in the future remains to be seen.
Update: Facebook has clarified to us that only "public figures" with verified profiles will be able to host Facebook Live streams, not organizations.
SOURCE Facebook Mentions