Facebook is down: tiny details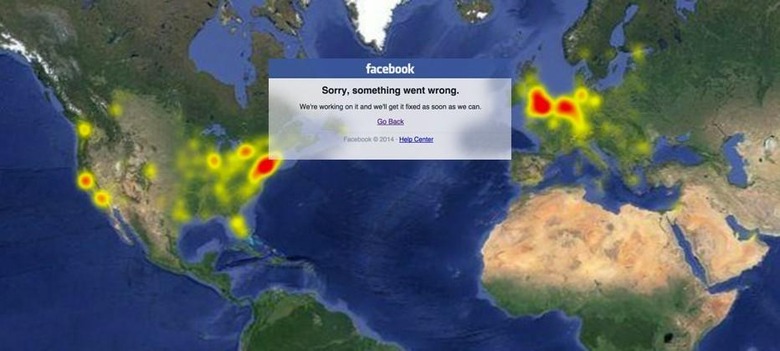 Today Facebook has gone down for thousands (if not millions) of users around the world. Blackout began at around 11:30 AM Central Time in the United States and appears to have affected areas in Europe and Asia as well. A live outage map suggests that most users reporting problems come from the United States, centering in around New York City, Los Angeles, and Minneapolis. Twitter complaints are coming at an increasing speed at the time this article is published, with just a few tweets a minute at 11:40 AM Central Time up to over 80 tweets per minute closer to 11:50 AM Central Time.
The map you see with heat zones comes from DownDetector where they count reports from users as well as live detection of servers. At this time it would appear that a service disruption has taken place – though which kind, we do not yet know.
Meanwhile Facebook announced this week that they'd be beginning their launch of 360-degree videos. The first of these was a Star Wars-themed video of a speeder bike on the planet of Jakku. To learn more about the videos and how Facebook is keeping them out of the hands of YouTube users, head to our how it works feature.
It's also been reported this week that Facebook will soon get a dislike button. It's times like these that we're sure the social network is glad it doesn't have said buttons already active – though we'd have trouble trying to tap them anyway.