Facebook Home vs Homeless: should you go blue for Android?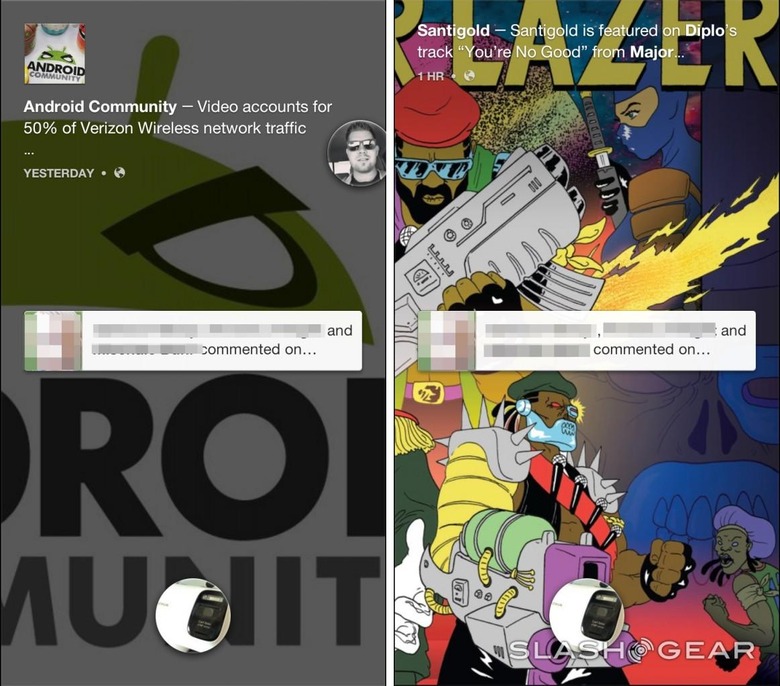 If you're planning on adding Facebook Home to your device this weekend, you might want to consider the positives and negatives of doing such a thing. If you've got an HTC First, you'll likely have purchased the device because you want Facebook on your device, and there's really not a whole lot you need to consider. If you're a Facebook user and have an Android device, you've got what might be a rather easy decision ahead of you.
With the launch of Facebook Home you've got the ability to use advanced features (new this week) for Facebook without adding the Home launcher to your Android device. You've got three applications in the mix now where before you had two:
• Facebook for Android
• Facebook Messenger
• Facebook Home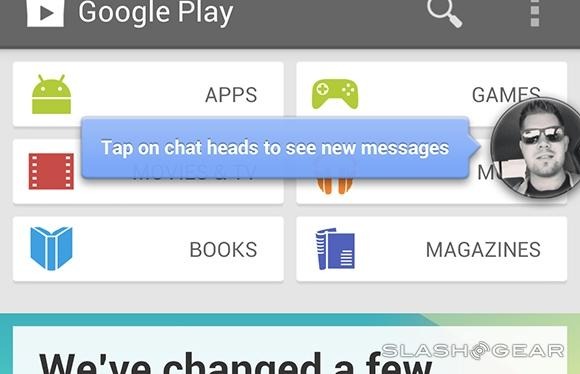 The first two have received updates today along with the update for Facebook Home which include connections to Home, but do not require Home to work. If you want to avoid Home entirely, you're free to do so. With Facebook Messenger you get what Facebook calls "Chat Heads", a rather awesome feature that you can learn all about in our Chat Heads First! post from earlier today. With Chat Heads you've got Facebook's messenger service with you at all times – those heads can pop up anywhere!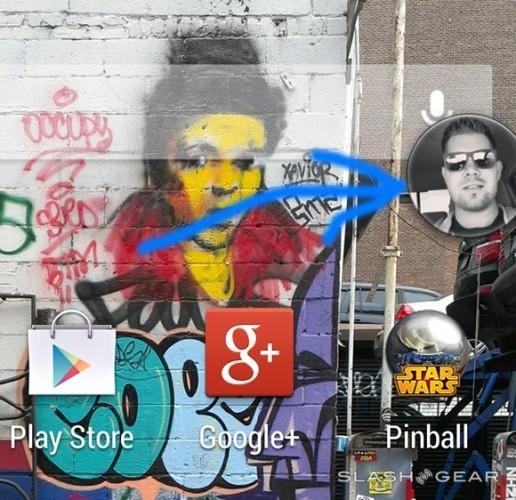 Facebook for Android stays largely the same if you don't download Facebook Messenger or Facebook Home. In fact you've got basically an app with no real surface updates at all if you don't download Messenger or Home – how about that? If you do download Home, though, you're in for a real trip.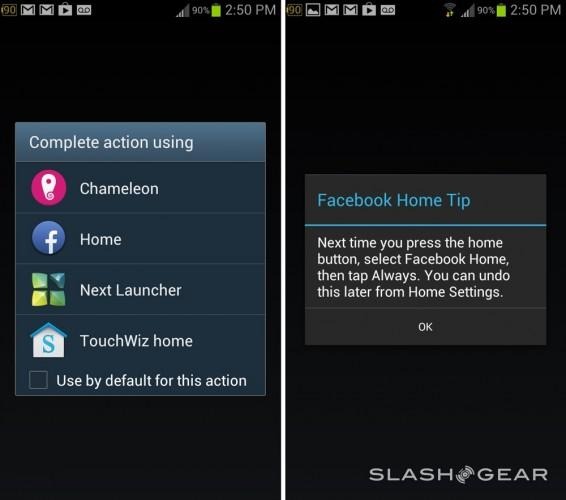 When you first open Home, you'll be treated with a full-screen presentation of one of your friends' recent status updates with a photo that will be oversized enough to fit your display. This status will be accompanied by a short blurb – sometimes the full text, sometimes just a clip, and you'll see some recent activity from your "updates" in the form of small bars with attached Facebook "Heads".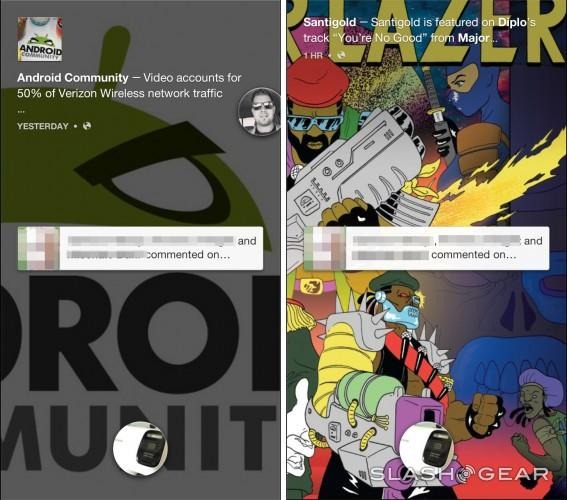 These Heads will continue to pop up throughout your experience with Facebook at this point. They're just your regular Facebook profile photo living in a sphere rather than a square, and outside of Chat Heads, they're just plain old Heads. You'll find the SlashGear "head" to be more of a "Gear", as it were.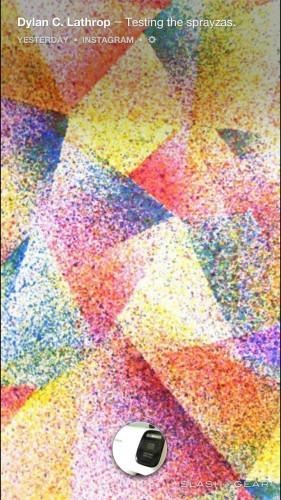 You can cycle through statuses from here, pretty pictures included if you have friends that post appropriately colorful bits and pieces. Whichever status you leave up, that's the one that sticks as your "wallpaper" as you cycle through apps if you do choose to enter any app from this point onward.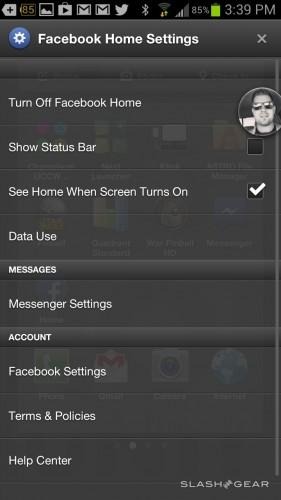 Your apps are all still accessible, and as our Facebook Home Review shows, you've got a really basic experience waiting for you. This Facebook Home environment makes for a real Facebook Front and Center situation, that's for sure.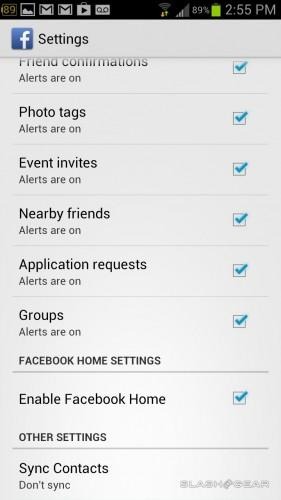 The lockscreen isn't actually a lockscreen in Facebook Home, it's called "Cover Feed." With Cover Feed as your first screen, you'll often not really want to go far beyond – or if you do, it's through Facebook that you'll be doing it. Facebook Home covers you in a solid blue aura of Facebook. I nearly typed "of social networking", but with Facebook Home, you don't get your other social networking (or any other) updates on the Cover Feed, you only get updates from Facebook.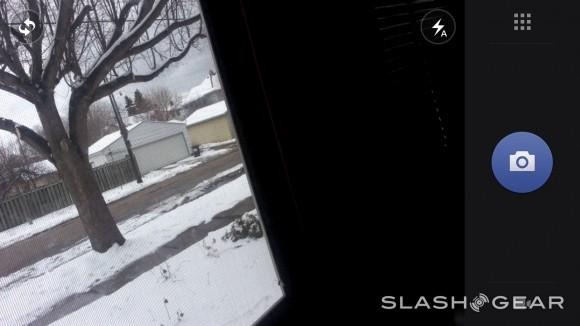 Above: Facebook's own camera interface makes its mark as your primary go-to shooter as well.
The story is a bit different when you get a Facebook Phone like the HTC First. Have a peek at our HTC First review to see how different the experience is – it starts with apps other than Facebook being able to give you notifications in-launcher. That can be quite an important decision point for you if you're planning on working with Facebook Home one way or the other.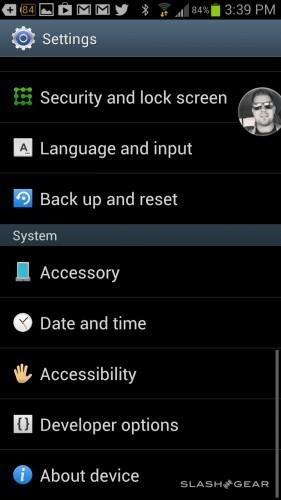 Above: Your normal Android settings are available if you know where to find them. On the Galaxy S III you can simply pull your notifications bar down and hit the gear!
You can download Facebook Home right this minute from the Google Play app store for free and load it for a limited number of devices. After today there will be updates every once in a while adding smartphones to the fold – for now, it's quite obvious that AT&T is being favored for the hero line-up. Have a peek at which devices can work with Facebook Home and let us know what you think!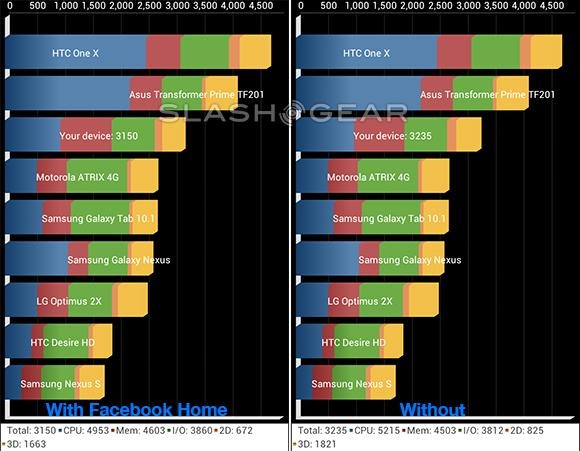 BONUS: What you're seeing above is the Samsung Galaxy S III running the Quadrant benchmark test with Facebook Home running, then without Facebook Home installed at all. The differences can be seen two ways – extremely minor, or just different enough to sway you one way or the other. Consider your options!