Facebook email bug larger than first expected

This week it's become apparent that Facebook and its switch over to automatically displaying an @facebook.com email address for all users is causing more of a problem than it inevitably would have had "nothing" gone wrong. The folks responsible for making big changes such as the switchover we've reported on earlier with Facebook's contact emails are certainly used to being shoved around a bit each time they decide that a big aesthetic or behind-the-scenes change has to be made to the social network. What they're probably not entirely prepared for is when a bug – such as the one creeping up their leg right now – is revealed.
One of the larger bugs to come out of this ordeal is a situation in which the newest email to be added to the Facebook contact list is used for notifications. In this case, that means that anyone who relied on their notifications to see when Facebook needed their attention would have to check their Facebook email – available only on Facebook – to see if they had any Facebook updates. That's not exactly what Facebook developers had in mind when they decided on the switch.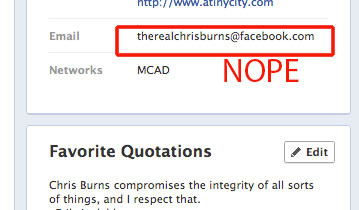 Fix your Facebook email right this second with these simple instructions.
Mobile users are also experiencing a similar bug in which Facebook's efforts to make their social networking ecosystem more of a "consistent" one has also resulted in emails being lost – and in some cases, not even showing up in the specified Facebook email box. Facebook's ghost in the machine – or perhaps it's a goblin – continues to wreck the days of thousands as Facebook developers continue to hack away at their brains to fix it all as soon as possible.
Have a peek at our timeline below to see the brief history of this bug and the events that immediately preceded it.