Eye-Fi View auto-shares photos through online gallery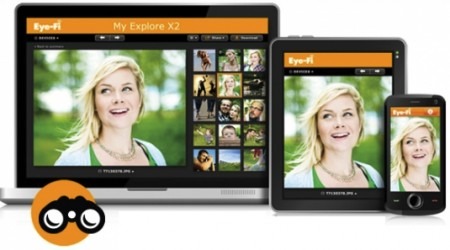 Eye-Fi has announced an update to their WiFi SD card service, Eye-Fi View, which promises straightforward web-access of content uploaded through the company's latest Eye-Fi Manager app.  Eye-Fi View basically (and optionally) uploads newly transferred images to an online gallery, where they can be viewed from any internet-connected device.
The service supports automatic update emails, too, so you can have people automatically alerted when there's new content to be browsed.  The last seven days' worth of photos is free to view, though if you want longer it'll cost you: £3.99 a month or £39.99 a year.
There's also a new send-by-email feature – free for all users – which keeps an address book in the Eye-Fi system and allows for easier sending through old-fashioned means.  You can download the latest version of Eye-Fi Manager here.
Press Release:
VIEW AND SHARE DIGITAL MEMORIES ANYWHERE, ANYTIME WITH EYE-FI VIEW

New system and email feature lets people quickly show off and share content on multiple devices

London, UK, 28 October 2010 — Eye-Fi Inc. (www.eye.fi), best known as makers of the world's first wireless memory card, today launches Eye-Fi View, giving consumers a new way to access their photos and videos from virtually any computer or mobile device. Along with Eye-Fi View, Eye-Fi also introduced a new email-sharing feature, allowing direct, private sharing of full-resolution images without clogging inboxes or requiring viewers to login.

"When we released the first Eye-Fi card three years ago, we solved the fundamental problem of getting pictures off the camera and onto computers and online sharing sites. As we enter the biggest photo-sharing season of the year – Halloween to Christmas – we're delivering an even easier way for people to view and share photos from any device, with more control than ever," said Jef Holove, president and CEO of Eye-Fi. "Photos and videos of the kids dressing up for Halloween or in the school nativity play can be easily emailed to grandma and shown off on dad's iPad."

When it comes to photography, viewing the images is the point, and more devices – from netbooks to smartphones to tablets – create more ways consumers want to view and show their memories. With Eye-Fi View, this content is now accessible from virtually any Internet connected device and can be viewed and shared at home, at the office or on the road.

Whether selecting certain photos to share on public sites, like Facebook or Flickr, or privately sharing several images or full albums with trusted email contacts, Eye-Fi makes it easy. By simply logging into their Eye-Fi account from any device, users can view photos, publish them on the web or share them via email.

"There are many sites on which pictures and videos can be shared. But even in this age of social media, email remains the most popular method of sharing among consumers," added Holove. "With our unique approach to email sharing, Eye-Fi is extending its ease of use capabilities to customers who want to email their photos. Because, put simply, photos are created to view."

With Eye-Fi's email feature, users select contacts from their own address book, and recipients – whether Eye-Fi users or not – can easily download full-resolution images through a single link, without worrying about overwhelming their inbox.

Pricing and Availability

With the latest Eye-Fi Center release, Eye-Fi X2 card users can automatically send content to their Eye-Fi View. Access to content uploaded within the last seven days is always free. Upgrade to Eye-Fi Premium to maintain access to an unlimited amount of content for only £3.99 a month or £39.99 a year. All Eye-Fi users can take advantage of the new email sharing feature.

Eye-Fi products are now available at Jessops, selected John Lewis stores, Best Buy, PC World & Currys Megastores, Apple stores and online at Amazon.co.uk and WarehouseExpress.com. For more information, visit www.eye.fi.