Exploding Kittens app Review : exactly what you wanted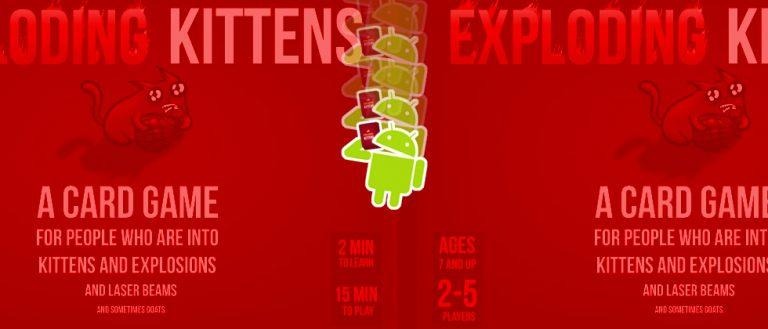 The app we're looking at today is the app-ification of one of the most successful Kickstarters of all time. That was Exploding Kittens the card game, made with the artwork of the man behind The Oatmeal. This game was made to be super simple and work with the attention spans of you and I – super short though those are. This game is exceedingly entertaining and makes for a brisk Sunday afternoon battle between you and yours. The app is pretty much the perfect translation of that to your smartphone.
If you want to get a handle on what this game is all about in physical form, head back to our Exploding Kittens stop-motion unboxing. There you'll find the gloriousness of the truth. There's a cat noise you can't hear, but I assure you – it's there.
Above you'll see the app in motion. This app can be played locally or anonymously online. There you'll have to wait for your opponents to make their moves before you can go – without the ability to scream directly in their faces as you would in real life.
If you have the card game at home, but have gone on a car trip and have foolishly LEFT the cards at home, this app shall suffice. Playing locally will allow you to have at portion of the fun with a slightly smaller chance of paper cuts to the face.
While we're still holding out for the BlackBerry version of this game – not holding on very hard, but still – the Android and iOS versions are now out, in all their glory. You'll find them in their respective app stores under Exploding Kittens.
There aren't many other apps that are going to come up when you search for Exploding Kittens. Not too many that are related to the term, anyway. It should be easy to find.
Otherwise you could just tap iOS app store here or Google Play app store here. Whatever suits you!