Expect Play-focused Chromebooks when Android app support arrives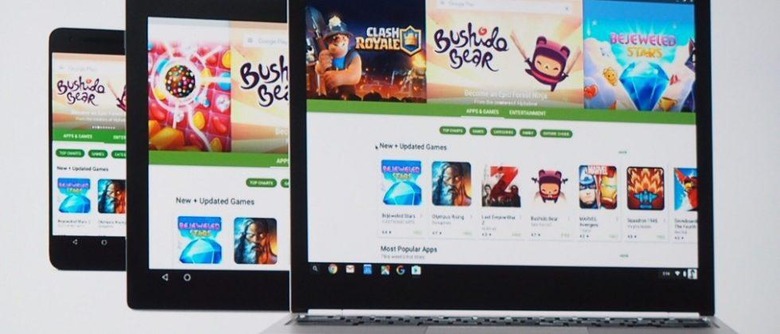 Android apps on Chromebooks will arrive with brand new hardware and the possibility of much more expensive software, Google has said. The news today that Google is bringing Android app support to Chromebook also brings the promise of new Chromebook devices; while there's no specific news to share at I/O 2016, the company said, when Android apps arrive later in the year it'll be accompanied by "new hardware built with the Play store in mind," Kan Liu, director of product management for Chrome OS, said.
Exactly what that hardware might look like – and how it will be different from existing Chromebooks – remains to be seen. One hardware device often absent from Chromebooks but usually included in Android phones is GPS, for instance, though they could make use of less granular location from WiFi triangulation and other methods.
There are also a few things that Android devices do to take advantage of the Play store now that Chrome OS devices don't today, like the ability to authenticate purchases with a fingerprint scanner.
You might want to make sure your Play account is more secure from accidental or unintended purchases, too, since Google is predicting much more expensive apps to come down the pipeline.
Android developers will get a whole host of new hardware to play with, for instance, Liu pointed out: things like keyboards and trackpads. They'll also get multi-window support and generally larger displays.
As a result, there's the possibility for software that could be considered desktop-standard, and with that comes desktop-style pricing Liu says. Such packages can go for "several hundred dollars", versus the typical price of a few dollars – if not free – for an Android app.
The apps themselves will take advantage of the Chrome Sync engine, and be automatically transferred to all Chromebooks registered to the same Play account.
Enterprise users – who might arguably be more likely to spend hundreds on software with this new support – will be able to manage and push out apps centrally, ensuring that every user gets the software automatically installed.
Data created in the apps can be stored on the device or, Google's preference, in the cloud, with that set on an app-to-app basis.
The first taste of Android app support for Chromebooks will come with the M53 developer build due in a few weeks time. The rest of us will get it later in the year, along with a fresh batch of shiny new hardware.