Exclusive Insider Talk: Anya Ayoung Chee of Project Runway and HP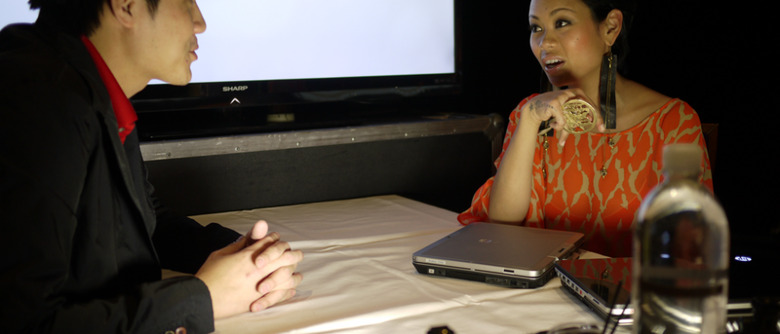 This week we got the opportunity to sit down with HP and Project Runway Season 9's winning designer Anya Ayoung Chee to speak about her win of the Intel & HP design challenge. We were at Showstoppers CES 2012 and spoke about no less than how technology made the task of being a modern day designer a wholly enjoyable one – textiles to integrated media, all of it sits at the heart of her interests. For the HP design challenge she spoke on how the technology the contestants needed to use was very user friendly and made her taking part in the challenge a positive one – an organic feel to the whole situation made for, again, a positive experience from start to finish. Social media, Chee noted, is a part of her every day life, Twitter especially, she connecting with her fan base in a way that designers of the past never had the opportunity to.
The HP Spectr was the next bit of subject matter, the device working with Gorilla Glass in a whole new way, both inside and outside, with a high definition display and a powerful set of innards for a media fabulous experience. Beats Audio is of course integrated, complete with the red light, and performance and aesthetics sit at the head of the release. HP Folio 13 was next, with 9 hours of battery life and a 13-inch screen along with a thin overall chassis size made for an everyone-friendly experience. The third laptop you see on the table in the video is the HP Elitebook 2760p, another notebook which, as your humble narrator's experience with the HP Elite line will tell you, is no joke when it comes to being hearty and powerful.
Have a peek at the interview video above and check out Chee's Twitter feed at @AnyadeRogue. We presented Chee with one of our fabulously fashionable SlashGear messenger bags, of course, to send her back off into the world of fashion and extravagance. Have a peek at the rest of our Insider Talks from this event through our [CES Live portal] or our portal for Insider Talk for just the talks – and stick around the rest of the week for the rest of our CES 2012 coverage!