Ex-ATI GPU designer hired by Apple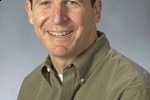 Apple have hired an ex-ATI graphics chip designer, Bob Drebin, and while the specific department he will be placed in is unknown, Drebin's background as CTO of ATI's product group makes it a sensible guess that he's helming a GPU project.  Drebin was responsible for leading GPU engineering at ATI since 2000, while before that he was a product developer at Silicon Graphics and ArtX; while at the latter, he worked on the "Flipper" GPU that was used in Nintendo's GameCube.
The news was broken via Drebin's own LinkedIn profile, which lists him as a Senior Director at Apple.  Current speculation is that this hire is linked with Apple's acquisition last year of PA Semiconductor, who are believed to be working on custom iPhone processors.
Those processors, and similar, are rumored to be at the heart of the Apple iPhone Lite for Verizon and Apple Media Pad, two new – and unannounced – products the company is believed to be working on.  Called System on a Chip (SoC), they combine CPU, GPU and other previously-separate components, saving on both space and money.
[via Electronista]