eviGroup Pad 10.2-inch Win7 slate with Seline AI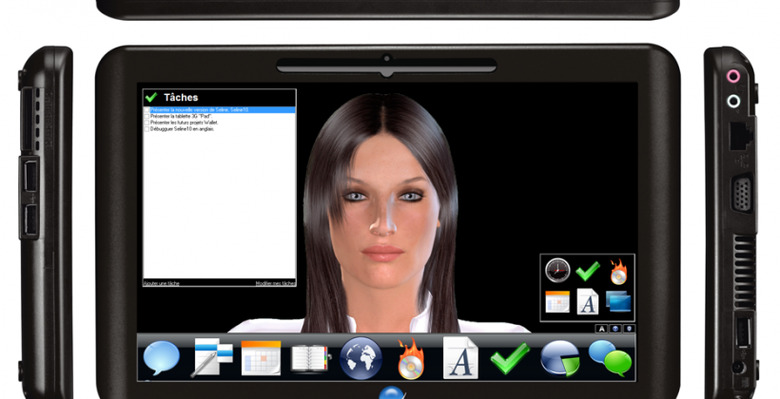 French tablet company eviGroup have unveiled their large-display device – the eviGroup Pad – and like the rumors suggested it's an Atom-based 10.2-inch touchscreen slate.  The Pad has a 1024 x 600 display, integrated WiFi a/b/g and 3G, and runs Windows 7; it also works with French software project Seline, a so-called "artificial intelligence" interface that supports spoken, text and handwriting control over various aspects of a computer system.
The eviGroup Pad runs an unspecified Atom 1.6GHz processor, with 1GB of RAM and a 160GB hard-drive.  Connectivity includes three USB 2.0 ports, ethernet, audio in/out and a multiformat memory card reader, while there's also a 1.3-megapixel webcam and integrated microphone.  The whole thing weighs under a kilogram.
Seline, meanwhile, is slightly harder to explain.  It seems – from the translation, at least – to be a chat-based interface which intelligently recognizes spoken and written plain-language instructions.  So, you could load an app by requesting it be opened, or you could do more complex tasks such as ask the AI to create a new appointment for a certain time, and it would be clever enough to know to do that in the calendar application.
eviGroup are promising more details – together with videos and live photos of the Pad and Seline in action – over the coming days, so we'll be keeping an eye on what they have to offer.  Early pricing suggestions for the Pad tip it as under €500 ($745) with Windows 7 and Seline.