Every single Star Wars The Force Awakens trailer [UPDATED]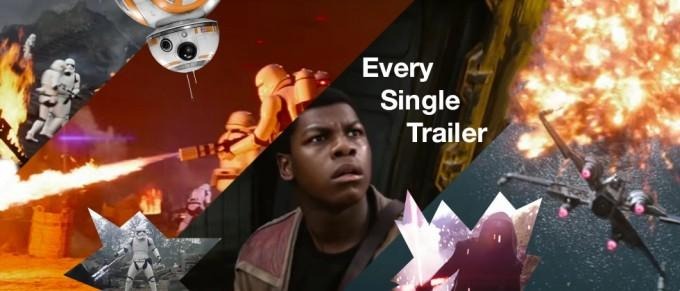 Before the release of Star Wars: The Force Awakens, Lucasfilm and Disney wasted no time releasing trailer on top of trailer for the film. They began a little over a year before the film was set to premiere, showing off their very first teaser over Thanksgiving break. Then there was another, then a couple more, then the flood gates opened up. What follows is a collection of every single Star Wars: The Force Awakens trailer released to the public – plus a few bonus bits and pieces.
The first trailer you'll see here is one of two "teasers" released by Disney and Lucasfilm over a year before the film Star Wars The Force Awakens was set to release. The first in this new age of Star Wars films was announced to be premiering around the world on December 18th, 2015.
NOTE: If you're aware of a The Force Awakens video spot (trailer or no) that we do not have in this collection, by all means – let us know! We'd be glad to add it, and we'll thank you for your service to the Empire as well! Or should we say First Order? Whatever works for you.
Above you'll see the first 88-second teaser, released on November 28th, 2014. Below you'll see the second teaser, released on April 16th of the year 2015.
The above teaser is 2-minutes long (give or take a few seconds) and was released immediately after the big Star Wars: The Force Awakens cast panel at Star Wars Celebration 2015.
The full panel from Star Wars Celebration can be found below thanks to The Force Book!
Fast forward to July of 2015 and San Diego Comic-Con. In Hall H, at the comic convention where the original Star Wars film was originally shown off to the public for the first time – here you'll find the most extensive piece of footage.
This is the "Comic-Con 2015 Reel", and it's magical.
Below is the first "official trailer" for the movie. This is the "Star Wars: The Force Awakens Trailer (Official)." This was released on October 19th, 2015.
At this point you may want to turn back if you're not all about spoilers. While we're not showing anything that isn't made public by Lucasfilm and Disney, we're about to show you what we know.
This is our own Star Wars The Force Awakens: everything in chronological order teaser made with footage collected from all of the videos up unto October of 2015.
Note that the video above is just version one, and again, doesn't include footage from anything released after October.
On November 6th, the trailer you see below was released in Japan. You'll get some heavy BB-8 action and a lot of talk!
Come November 12th of 2015, TV spots began to be released. Here we're getting closer to understanding some storyline – seeing some points that are becoming more obvious to the everyday viewer. Spoiling without spoilers.
On November 20th the second TV spot was released, featuring Finn. Watch out for the swear word!
Another TV spot released in late November. This spot contains some familiar faces in X-Wing fighters, one who's previously co-piloted the Millennium Falcon.
Note that we're looking for a higher-quality version of this spot. Let us know if you've found one!
Below you'll find the AMA Awards trailer – released at the same time as the AMA Awards on November 22nd, 2015. Here you'll see that lightsaber ignite again.
BONUS – here's an advertisement from O2 in the UK. Here you'll find C-3PO and R2-D2 meeting BB-8. This is NOT how they meet in The Force Awakens, but it should give you a decent idea of how BB-8 moves – so smooth.
Stay up-to-date on all things Star Wars from SlashGear through our Star Wars Twitter, and hang around for future reviews of Star Wars toys, movies, and all entertainment bits in-between!