Eston MID-05 MID and N97 UMPC arrive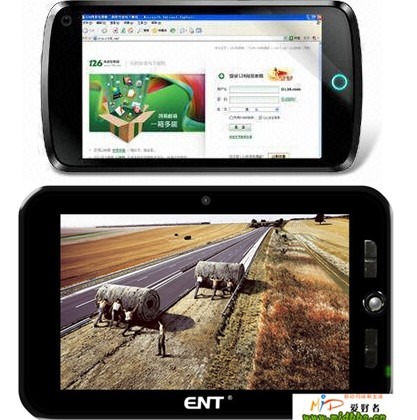 It's all go at Eston's render labs this week, with two new tablets in the offing.  The company has sliced off the hardware keyboard from their MID-02 and produced the touchscreen-only MID-05, a 5-inch handheld running either Android or Windows CE.  If your fingers are too chubby for that, Eston also have the N97 MID, with a larger 7-inch touchscreen and integrated 3G.
The Eston MID-05 lacks 3G, but has WiFi b/g, an SDHC card slot and a 624MHz Marvell PXA303 processor.  There's also USB 2.0 connectivity and an integrated speaker, together with a headphone socket.
As for the Eston N97, despite the Nokia-aping name there's no slide-out QWERTY to be had.  Instead, there's the same Marvell CPU, which Eston claim is good enough for 1080p HD video, along with WiFi b/g and a 2,800mAh battery apparently capable of up to 4hrs runtime.  No word on pricing for either model, but the likelihood of them rocking up on US shores is perhaps scant.