eStarling Impact IV Photo Frame Supports Video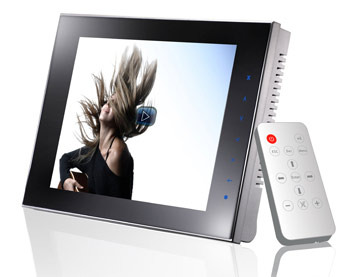 We may receive a commission on purchases made from links.
eStaring is widely known for its multi-functional digital picture frame. Its previously releases are more than just simple photo frames for displaying art- piece; wireless connectivity, sending photo via email, RSS feeder and social network integration with varies image gallery sites such as PhotoBucket, Flicker and Facebook contacts are among many advanced features we've seen from the vendor. Here's another first of its kind from eStaring – their latest Impact IV digital photo frame can stream video via WiFi network.
Ability to play video is not new to us on this still image display frame biz, but the eStarling utilizes a unique email address access to control user images and videos gallery via a WiFi network. Now you are not only can send still images but also motion videos from Youtube, supported social networks, iphone client to the eStaring photo frames without the need of a computer connection.
The schedule function as featured in previous model is available for video clips as well, but it's limited to a 4-minute playtime per clip only. The eStaring Impact IV photo frames is available now from amazon at $199.
Starling (www.eStarling.com ) has released their newest WiFi digital picture frame, the eStarling ImpactV, and the new model supports video!

Every ImpactV has a unique email address and can be connected to a home of office WiFi network to receive photos and video clips wirelessly.

Let's say you are at your daughter's birthday party and she's turning six. Using your cell phone, you can take a quick video of your daughter blowing out the candles. You can then immediately send that video to your mom's ImpactV frame, which might be sitting in her living room on the other side of the country or on the other side of the world. With no action on her part, and no wires or cables involved, the video magically appears on her ImpactV.

You can do the same thing with photos. Photos take a minute or so to arrive at the frame. Videos take a bit longer, sometimes as much as twenty minutes for larger video clips. The maximum length for a video clip is 4 minutes, so you can't send Batman Returns or anything crazy like that. Mind you, the frame does play DVD-quality video with high quality sound.

Still, you can send those funny video clips on YouTube to your ImpactV frame. You can send all sorts of video for that matter...movie trailers, news clips, music videos, friends and family videos, instructional videos or sports highlights video clips. There are a million ways the ImpactV can be used to enhance relationships, promote a business or do just about anything.

In addition to handling video clips, the eStarling ImpactV (the V stands for Video) can do everything that the eStarling photo frames – the 7" Impact7 ($99.99) and the 8" Impact8 ($169.99) — can do.

That means you can schedule photos and/or videos to appear on your frame on whatever day/time you specifiy. You can subscribe to RSS photo feeds and video feeds to automatically get new content on your frame. There are a ton of great video feeds to subscribe to...everything from the videos at USAToday to YouTube videos to Comedy Central videos to ESPN sports video feeds.

If you've collected digital photos or videos in a variety of online places (Flickr, Photobucket, etc.), eStarling provides a single website that you can login to and manage all those photo assets. (The originals can be securely stored at Photobucket via a partnership between eStarling and Photobucket).Without a solution like the eStarling ImpactV, your vast collection of images and videos will typically sit on a server somewhere, wasting away and never being viewed by anybody.

There are other tricks you can do with the frame...it's a long list. You can connect your ImpactV Facebook account. Put your Facebook credentials into your eStarling web account and photos from your Facebook friends will automatically start appearing on your eStarling photo frame. This is an exciting evolution in furniture...furniture that actually reaches out to you and proactively helps you to socialize with friends and relatives. When was the last time your chair or refrigerator did anything nice for you?

If you have an iPhone, things get even easier. There is an iPhone software application available, produced by eStarling, that adds a one-click, send-to-frame feature to your iPhone camera. You don't even have to email a photo to the frame. Just take the picture and if you like it, click the Send to eStarling button to get it on your frame...within seconds of taking the photo. You can edit the photos directly on eStarling's digital asset management site...add a "Happy Holidays from Us!" caption to your family photo before you send it over to your sibling's ImpactV.

This is the cutting edge of gadgetry and home accessories and makes for a superb holiday gift. The retail price for ImpactV is only $199.99. That's just $30 more than the Impact8 8" frame which has been selling by the thousands this holiday season. All eStarling products, the Impact7, Impact8 and ImpactV, are available at eStarling.com and shipping is handled by Amazon.com's fulfillment service.