Digital Foci Image Moments 6 LCD photo frame - where's the WiFi?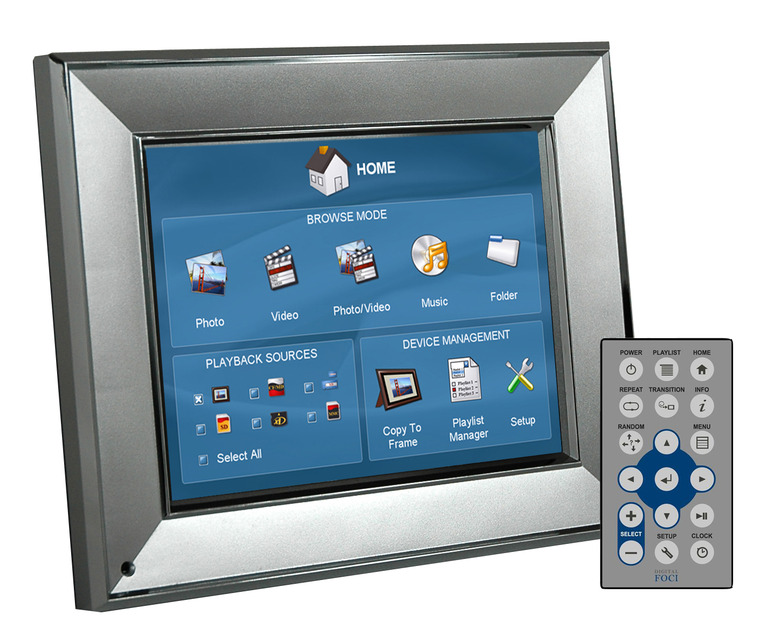 Digital Foci were doing so well with their Image Moments 6 digital photo frame.  The design is good – two-tone silver that neither looks too retro nor too modern – and the full-featured remote is handy; the screen – at 5.7-inch 640 x 480 VGA resolution – is just the right size and the file format compatibility broad.  Then they went and spoilt it all by leaving out WiFi.
There's 450MB of internal storage, a USB 2.0 connection to fill it, and integrated CF, MD, MMC, SD/HC Card, Memory Stick, MS PRO, MS Duo, MS PRO Duo and xD-Picture Card slots, but no way to whizz new images across your wireless network. Anyone who reads SlashGear regularly will know that I'm a big critic of digital photo frames that don't include wireless, and while the Image Moments 6 may support plenty of media formats – JPG, BMP, TIFF, GIF, RAW image files, MP3, AAC, WMA, OGG and WAV audio, and MJPEG and MPEG-4SP video – I simply can't get excited about it.
The Digital Foci Image Moments 6 will begin shipping on October 13th.  It's available to pre-order now, priced at $149.
Press Release:
DIGITAL FOCI SHIPS NEW "IMAGE MOMENTS 6" DIGITAL FRAME FOR EXECUTIVES

Perfect for the Executive's Desk:

· Highest Pixel Density Screen Available on Market

· Advanced Photo & File Management

· Elegant Mirror-Polished & Powdered, Two-Tone Chrome Finish

Los Angeles, CA, October 6, 2008 – Digital Foci, Inc. (www.digitalfoci.com) announced today that it will start shipping the "Image Moments 6" high-resolution digital frame with a 5.7-inch VGA (640 x 480) digital LCD screen. Nicknamed "The Executive," Image Moments 6 with 140 PPI (pixels per inch) is the highest pixel density digital photo frame on the market, displaying photos with superior image clarity and detail. The digital frame features LED backlight, which provides a deeper color pallet reproduction over previous technologies, and uses environmentally-friendly materials with a lower power consumption design.

Awarded Consumers Digest's "Best Buys in Digital Photo Frames" in the "Premium Selection" category, Image Moments 6 is one of the most upscale and feature-rich digital photo frames available, built for those that demand only the highest quality. Perfect for corporate executives, Image Moments 6 features a stunning two-tone chrome finish; beautiful screen; compact footprint; and advanced operating system features for the highest quality digital frame on the market.

Image Moments 6 (model IMT-063), along with its larger sibling, Image Moments 8 (model IMT-083) with its larger 8-inch 800x600 resolution screen, are based on a unique operating system with advanced functions not found on other digital photo frames.

Highlighted Features of Image Moments 6 include:

- Play photos, video, and music files from multiple memory sources at the same time. You are no longer restricted to viewing photos on only one memory source at a time. With Image Moments 6, you can simultaneously play photos, video, & music from more than one memory source (internal memory and all inserted cards) at the same time.

- Select a subset from all available photos and videos to include in the slideshow. You can customize your slideshows by selecting specific photos from multiple memory sources, without deleting any photos.

- Create any number of Playlists directly on the device. You can create, edit, and sequence multiple Playlists by selecting specific photos, music, and videos to include in the Playlist without taking up any extra memory space.

- Organize photos, videos, and associated music into different folders to play as unique slideshows. The Folder View allows users to choose a specific folder and play its contents as a slideshow. This is perfect for people who want to organize their photos into specific sets, such as vacation photos, wedding photos, baby photos, and show the different collections depending on their audience.

Image Moments 6 features 450MB of internal memory for storing over 3,000 photos and built-in memory card slots for CompactFlash, SD/HC card, MMC, Memory Stick, MS PRO, xD-Picture Card, and even MS Duo/MS PRO Duo, without the need of an adapter. The frame has an Auto-Start feature to play photos, video, and music automatically on start-up from all available memory sources, including internal memory or inserted memory cards. Photos can be copied directly from a memory card to the frame's internal memory, completely eliminating the need for a computer. For users who wish to transfer photos back and forth from the computer to Image Moments 6, there is a USB port that connects to the computer.

With Image Moments 6, you can run automatic photo slideshows with adjustable time intervals, multiple transition effects, and randomly. Portrait and landscape photos are automatically rotated to display correctly according to the orientation of Image Moments 6 through the built-in auto-rotate orientation sensor. Other great features include an automatic on/off timer with three schedule settings, which can be set to turn on or turn off according to your schedule.

Screen and Sound Quality:

5.7" VGA (640x480) digital LCD with high pixel density of 140 PPI.

True color representation – display produces images with accurate hue and intense saturation.

Leading technology LCD with LED backlight.

Superb, subtle color representation with high contrast ratio of 300:1.

High-quality stereo speakers with frequency response range of 300-20K Hz.

Audio output to external speakers for special events.

Folder navigation plays the contents of a specific folder.

Memory Sources:

450MB internal memory.

Built-in memory card slots provide native support for: CF, MD, MMC, SD/HC Card, Memory Stick, MS PRO, MS Duo, MS PRO Duo, and xD-Picture Card (also supports mini-SD and RS-MMC with adapter).

Copies photos directly from memory cards to internal memory without needing a computer.

USB 2.0 connection for transferring photos between your computer and device.

Memory Source Select allows concurrent selection of a single or multiple memory sources for playback.

File Management Features: Organize, copy, delete, rename files; sort files by name or date; create new folders; copy between memory cards and internal memory.

Playback Options:

Selective play back: Navigate and select specific photos and videos to play back from all available memory sources.

Versatile play back modes: Select play back by photo only, video only, both photo and video, or photo with music.

On-device playlist management: Create, edit, and play back unique playlists of favorite photos in desired sequence without a computer.

Advanced multimedia format support:

Image: JPG, BMP, TIFF, GIF, RAW image files from a wide selection of DSLR cameras.

Audio: MP3, AAC, WMA, OGG, WAV.

Video: MJPEG, MPEG-4SP.

Automatic photo orientation based on EXIF data: photos will be automatically rotated to the correct orientation based on the EXIF data captured by the camera.

Landscape and portrait positioning with auto-rotate orientation sensor: photos will automatically be displayed in the correct orientation according to landscape or portrait positioning of the frame.

Automatic photo slideshow with adjustable time intervals, multiple transition effects, and random option.

Multiple photo viewing options: zoom, pan, rotate photos, view EXIF, and view photo thumbnails.

Automatic on/off timer for scheduled operation with 3 available schedule settings.

Versatile control options: Operate device by onboard joystick and buttons or wireless remote control.

Design:

Tension hinged easel leg allows users to choose optimal display angle.

· Contemporary design with beautiful two-tone, mirror-polished and powdered, chrome plating.

· Small footprint allows for versatile placement.

· Lanyard fixture for tethering down device in public areas to prevent theft.

Image Moments 6 (IMT-063) will begin shipping on October 13, 2008. It is available for pre-order immediately at Digital Foci's online store at www.digitalfoci.com, priced at $149.

About Digital Foci

Digital Foci helps consumers manage and enjoy their digital content collection easily. The company enhances people's lives by allowing them to seamlessly move digital photos, video, and music from one place to another. With Digital Foci products, consumers are able to enjoy any of their digital content on any device without ever worrying about format compatibility. Digital Foci products include digital picture frames, photo displays, storage devices, and card readers for transfer, storage, and management optimized for any setting where you choose to enjoy your digital content.

Digital Foci (pronounced "foe-sigh") is the plural form of the word "focus" and symbolizes the many distinct points where light and sound converge and diverge. It is at these digital focus points (or foci) where you view and share your digital pictures, watch your digital video, listen to your digital music, and access your digital files.