Essential Phone Review: The Impossible Challenge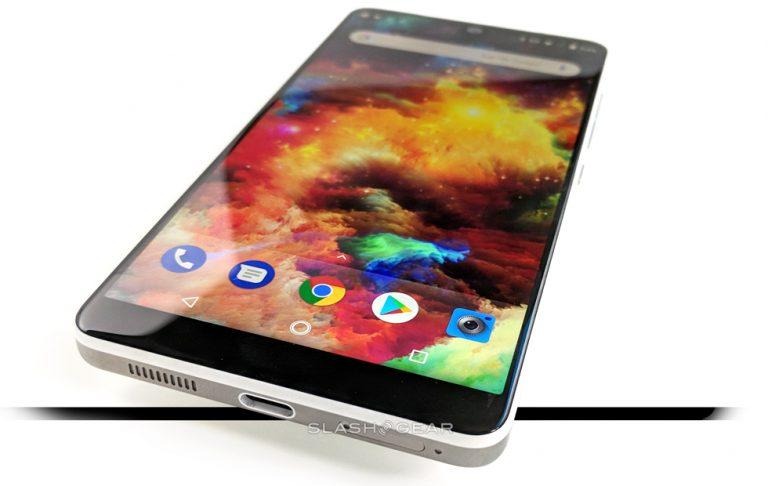 EDITORS' RATING: 7/10
The first Essential Phone was a good device, and everything that the first wave of Android phone enthusiasts could have wanted. But by the time the Essential company and the PH-1 existed, the general public had moved beyond their initial any-new-Android frenzy. Now we're in an era where the most fad-friendly phone is king, and only king for a half-cycle. Essential's first phone release is an attempt to check all the boxes for innovation but remain bare-bones at the same time. Therein lies the Essential struggle.
Our first review of this device was cut short by what we perceived as not-quite-ready software. The software, especially the camera software, just wasn't at a place where we'd call it complete: it was clear the phone was still a huge work in progress. Several months later, though, and with many updates under the Essential Phone's belt, we're ready to pass judgement.
In that time, Essential hasn't changed a whole lot as a company. They're still pretty mysterious about what their big picture plans are, and the Essential Phone PH-1 still seems to be in the midst of "we're not quite there yet" software updates. As such, we're rolling with what we've got!
Display
There's a notch here, and it contains a camera. This tiny space interrupts the flow of the rectangle that makes up most of the rest of the front of the phone. But in a manner similar to that of the stylistic choice of the notch in the iPhone X, the Essential Phone is made to look unique.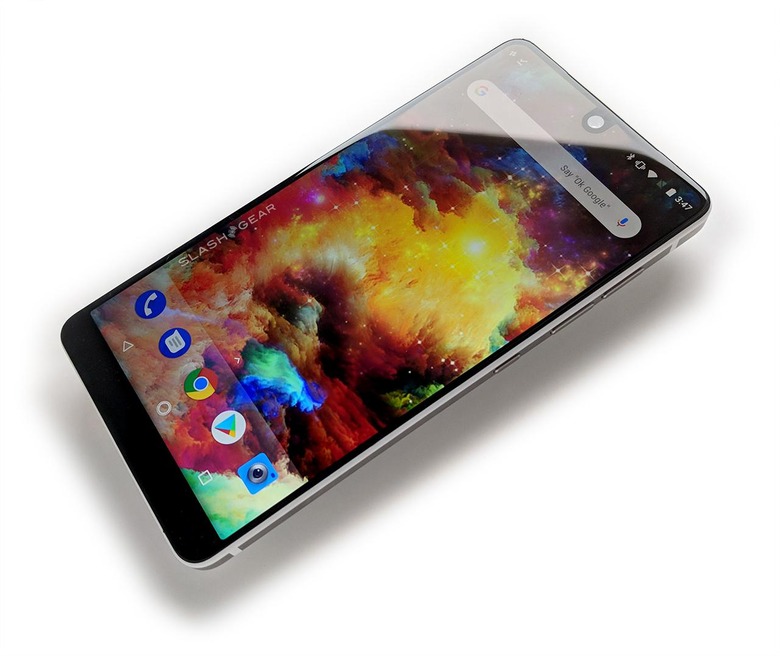 The display is a 5.71-inch LTPS IPS LCD with a significantly voluminous 84.9% screen-to-body ratio. It's right on-part with other top-tier smartphones of the past year for pixel density at 1312 x 2560 pixels (504 PPI), and it's covered with a pane of Gorilla Glass 5.
I have no complaints about the display itself. It does a perfect job of covering the space for which it was intended. Colors are just as full as a Galaxy S8 or an LG G6 – maybe even better. The display has no stand-out issues for me, save the one that has more to do with everything outside the display.
Body
The front and the back of the Essential Phone PH-1 are reinforced glass*, and the sides are mostly metal with a bit of plastic. The feel of this phone is unmistakably premium. If it weren't so extremely slippery, I'd feel a lot better about leaving it sit on any surface more than a few inches off the ground.

My only complaint about the hardware (aside from the bezels, etc, which I'll get to in a moment,) is that I'm afraid that I might break it. And thus it was and so it shall be with any device made with mostly glass and no built-in non-glass surface on which one might set it.*
*UPDATE: Upon closer inspection, the back of this phone is actually ceramic. Which means very little for the ways I've judged it above.
Lack of Bezel
The biggest issue I've had with this device is in its lack of bezel. Over time I've done my best to get used to the fact that my fingers are covering part of the screen, but it's still difficult to handle. My tendency is to hold whatever phone I have in a way that allows me to see the whole display, and that's not really realistic with this device.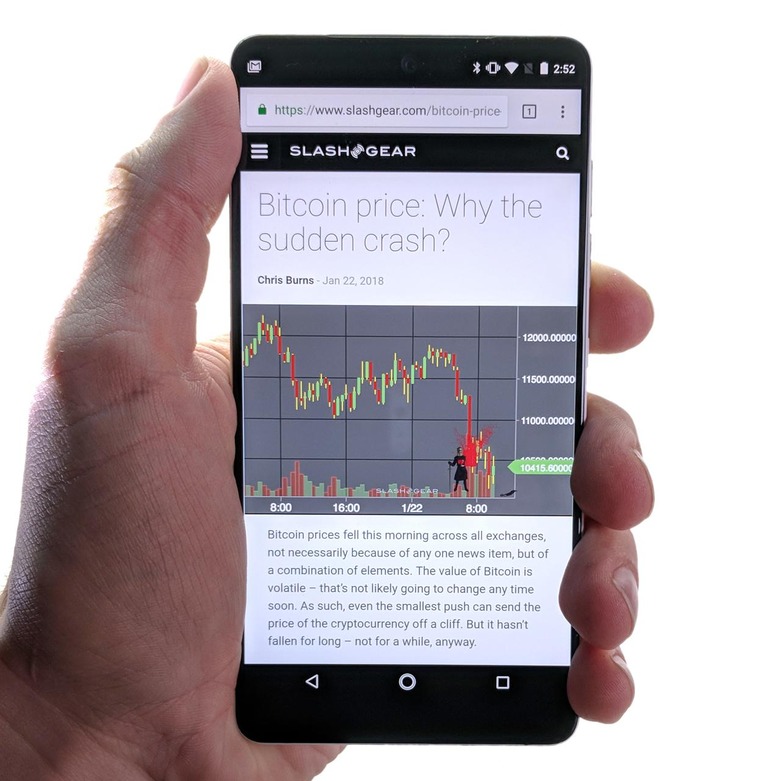 I know some users will find the lack of bezel to be a major highlight of this device. They'll marvel over how awesome it is to hold what's essentially a screen up front with barely a sign of what's powering it below and to its bottom. But the novelty of having such a device is lost on me. As such, I've put "nearly bezel-less front" in both the pros and cons columns for this review.
Software
This phone's been described as a blank slate – simple, bare, down to the very basics. That is truly is, coming with fewer Android apps than I've ever seen on a smartphone before – just those required by Google, and a custom camera app. This is the ideal software setup for a hardcore Android enthusiast in the year 2013.
While a lot of smartphones now contain their own apps, and sometimes the apps of their mobile carrier, I still prefer this. For the extreme "it's yours now, download what you want" attitude I get from this phone, I rate it highly. This is very much a phone made for people who know what they're doing with a smartphone.
Software updates have been relatively swift. On January 11th, 2018, when I'm writing this paragraph, the PH-1's last security update was January 5th, and it's running Android 7.1.1 Nougat. A Beta build for Android Oreo is available at this time as well, with a promise of a finalized Oreo build coming soon.
Camera
The camera software now is better than it was back when it was first released, but still not nearly as good as the hardware might imply. If we're outside and it's sunny out and we're taking photos in idyllic light, photos are great. Once we get indoors and lighting gets a tiny bit dimmer, it's far more difficult to snap a decent photo.
There's more than one camera on its back, but it would seem that dual cameras on their own don't automatically provide good results in dim lighting. The good thing about this pair of cameras is that one is monotone, which means we're able to snap native black and white photos – which look pretty decent.
Above you'll see some monotone photos snapped by the PH-1, some in the light, some in less-than-perfect lighting. Below you'll see a few photos of vehicles in motion. If we get the focus point correct and lighting is ideal, we get a fairly decent shot. Catching a kid in motion in a slightly dim room just isn't happening.
Camera quality is a big deal for me – and for a whole lot of other people in our modern media-heavy society. This, more than anything else, is a major reason why this phone isn't rated higher than our review's basic score today. A promising sign for the future for those that already own the phone: Software Helps. Have a peek at our Essential Phone first impressions feature to see some examples of better photo quality with the Google Camera App (originally meant for the Pixel.)
Also note that this device has a 3D camera accessory, but it's not part of the basic package. As such, we won't be including it with this first review. Stay tuned for add-ons, all linked from this review, in the future.
Battery
Battery life is not impacted significantly by the display – not any more than any other device with similar specs. This phone has a 3,040mAh battery capacity, and has Qualcomm QuickCharge in the mix. Battery life on this device is right around 20 hours, full to empty. That's when I've had mobile data running, streaming music whilst in the car, reading emails, and the occasional Twitter check.
Wrap-up
In many ways, the first Essential Phone seems designed almost entirely to satisfy a single category of user: someone who wants a display to cover nearly the whole front of their phone. In that respect, the PH-1's scant metal rim and glass front and ceramic back deliver, albeit with ergonomic downsides you might not realize until you have it in the hand. The vanilla Android purist will find software – or its absence – here to please them too, though the camera's middling performance remains a legitimate frustration.
I don't think it's unfair to suggest that Essential's $699 launch price was simply too high. For that, the Essential Phone should have had its own software ecosystem – if only optional – and a more defined hardware accessory roadmap. As it stands, the hardware of the phone itself is up to snuff, but the current $499 price reflects just what you're getting, and what you're risking, from a startup, even one with big names behind it. If Essential can follow through with its ambitious plans, from what the Essential Phone offers I'm tentatively enthusiastic about what comes next.