Essential Phone first-impressions
In a crowded smartphone world you need to do something seriously special if you want to stand out. Essential's mix is a combination of pure Android, high-end build quality even a Vertu fan would have to give credit, and an ambitious roadmap of modular accessories, multiple form-factors, and a new generation of AI. Today, though, with the Essential Phone in hand and most of the rest still somewhere on a nebulous roadmap, I can't help but wonder: would it be taken as seriously if it wasn't the handiwork of Andy "Father of Android" Rubin?
It's too soon for me to give a conclusive opinion on the Essential Phone. The company only gave out review devices to press a few days ago, are still ironing out bugs with new firmware, and arguably its most intriguing feature – the 360 camera which hooks up with both a magnetic mount and a new, wireless connection – wasn't part of the review kit. That, Essential tells me, will follow on shortly.
Still, it's given me the opportunity to experience the Essential Phone in its "regular" state. Not everyone will buy the 360 camera – indeed, it's possible that there will be some who don't take any advantage of the modularity which the company has made so integral to its value proposition – and so the handset has to stand on its own, too. It's clear, though, there's more to this handset than just a clever display.
Since it's the most eye-catching part of the phone, I'll start there anyway. Initially, I assumed Essential would use an OLED panel, since one of the benefits of that technology is that you can cut it into different shapes. Instead they're relying on LCD.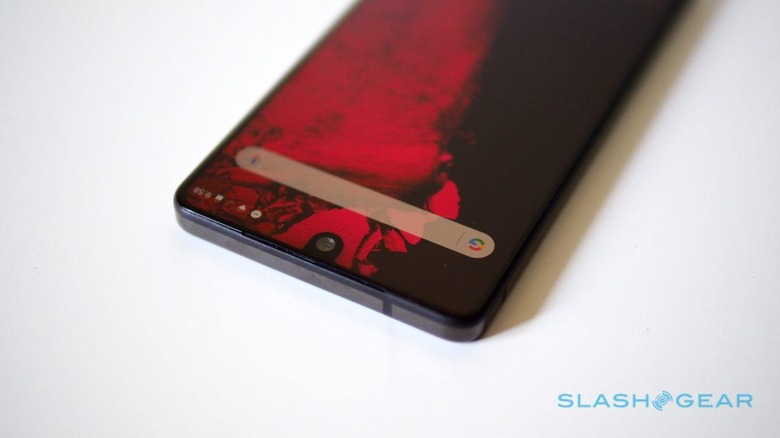 It's not as color-saturated or punchy as OLED as a result, and the off-center viewing angles fall-off a little as you look at the phone askance, but brightness is still solid. What you notice, of course, is the exceedingly skinny bezels on the top and the sides, and the cutout notch at the top for the front-facing camera.
It wasn't an easy challenge to take on, Essential's design and engineering team explained to me. Andy Rubin sketched out a rectangle and told them he wanted to make a phone with an edge-to-edge display, they explained, then countered their skepticism with his knowledge of what cutting-edge screen technology was available in the supply chain. There's a gulf between "it's possible" and "here's how we do it", of course, which includes figuring out how to squeeze front-facing sensors, the selfie camera, status LED, and of course an earpiece into that notch and an incredibly narrow groove on the very top edge of the phone.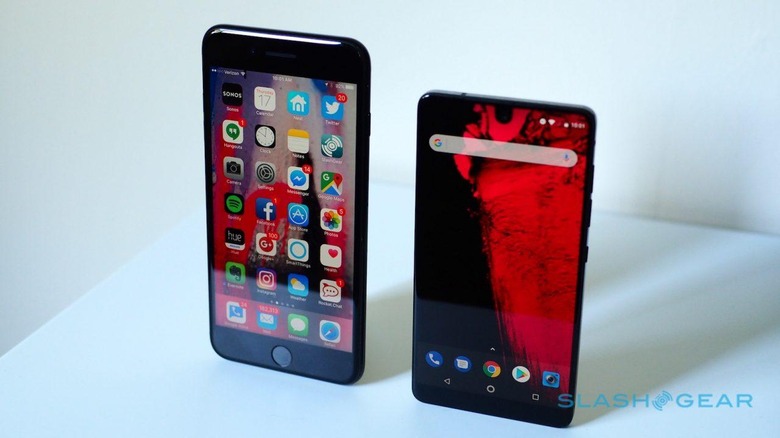 Side by side with an iPhone 7 Plus, which actually has a smaller 5.5-inch display to the Essential Phone's 5.71-inches, it's easy to say that the hard work was worth it. The difference in size is astonishing: 16.7 mm shorter and 6.8 mm narrower. Indeed, it's closer to the iPhone 7 in your hand, at which point the disparity in how much screen real-estate you get is even more pronounced.
With the iPhone 8 widely expected to have a notch of its own at the top of the screen – albeit in a different shape – I was curious to see how intrusive the Essential Phone's cutout would be in everyday use. Turns out, after the initial wow-factor, you don't really notice it. Android's status and notification bar naturally spreads its icons and alerts to either side, and since it's usually black the section that isn't screen simply blends in.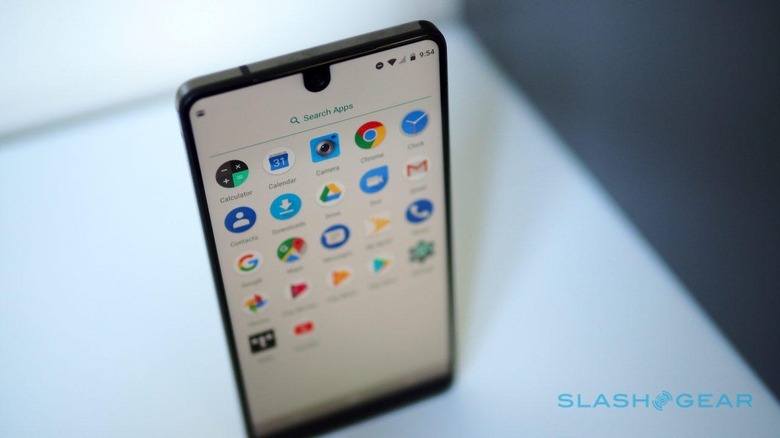 It gets slightly different when you're watching full-screen content, but even then not as much as you might predict. Since the Essential Phone's screen has a 19:10 aspect ratio, but most widescreen video is 16:9, there are naturally black bars either side: enough, certainly, to obscure the notch. The phone's own camera records in 16:9 too.
It'll shoot up to 4K at 30fps footage, 1080p at 60fps, or 720p at 120fps. Photos, meanwhile, take advantage of twin 13-megapixel sensors – one color, and one monochrome – each with an f/1.85 lens. The argument is that the monochrome sensor does a better job at detail, which can then be combined with the data from the color sensor, for a better overall shot.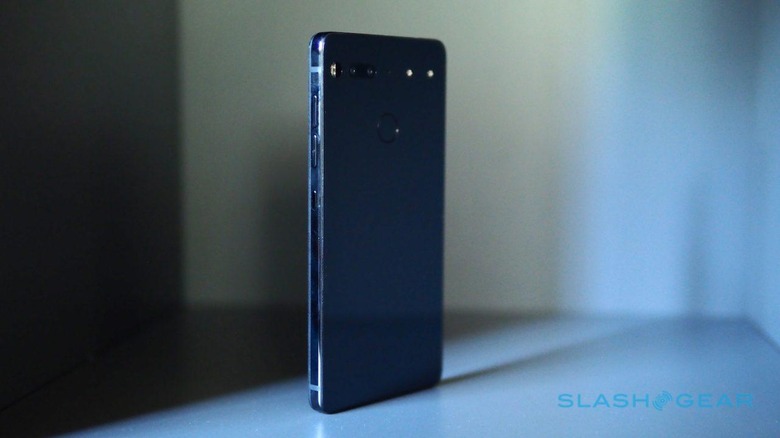 Honestly, I'm yet to be wowed by it. Its photos are serviceable – and the mono mode, which is easily accessed if a little sluggish to load, produces some particularly pleasing detail in close-ups – but fall short of what the Pixel, Galaxy S8, or iPhone 7 can produce. Shots in low-light are even more underwhelming.
I'm tempted to blame the stock camera app, though, which is definitely bare-bones. After I installed the Pixel camera app, which was helpfully released (unofficially) earlier this month, Google's fancy HDR+ algorithms brought out much more detail from Essential's hardware. The original file sizes were around twice as large, too (I've resized them so they load a little quicker).
It's particularly noticeable in this birdhouse image, where the background is overblown in the version taken by the stock app. The Essential phone's stock app took the image on the left; the Pixel app is responsible for the version on the right. Improvements, though, may be at hand. Last night, Essential pushed out a new firmware version with, among other things, the addition of HDR to the stock camera app. I'll be putting that through its paces for my full review.

In an age where smartphones are often derided for having evolved into featureless rectangles, the Essential Phone is even more, well, rectangular. The edges are sharper than the curves most rival devices adopt, a necessary conceit the designers say, since it allowed the screen to push closer to the sides of the handset. Indeed, there's much more than you might see at first glance.
There's a consideration to all of the materials that only really becomes clear when you talk to the teams actually responsible for the Essential Phone. Its titanium chassis, for instance, is much stronger at resisting impacts than the magnesium or aluminum in rival devices; however, it also transfers less force to the Gorilla Glass 5 covered display when, say, you drop your phone. The ceramic back surprised me by how thin it proved to be when held in isolation, but when bonded to the back of the metal body it's astonishingly tough.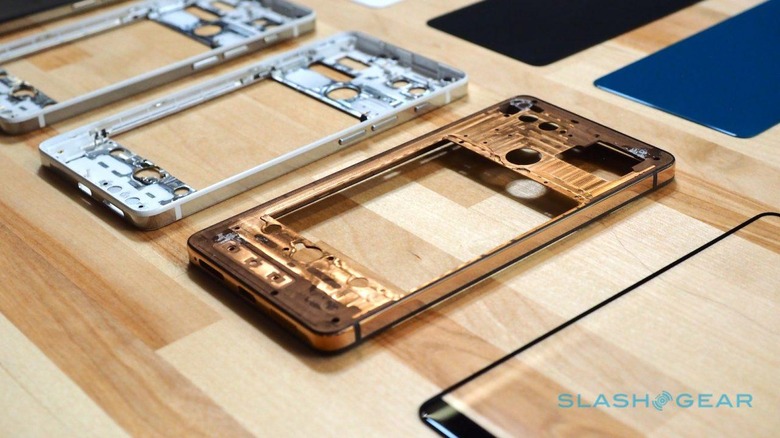 Arguably too tough. Essential intended to launch the Essential Phone in both black and white options, with a matte finish, but those have been delayed. The problem? When the engineers simulated the impact of it tumbling in a bag or pocket – complete with keys, fabric, and other detritus that could normally leave your smartphone a chunk of scratches and gouges – they discovered that the matte ceramic was acting as a very fine grade sandpaper. The problem is clearer on the white version, the edges of which tend to pick up color from denim as it abrades them.
It's not going to be indestructible, of course. Nonetheless there's definitely a sense that this is a handset intended to buck the 18 month upgrade cycle. A big part of that is Essential's approach to modularity.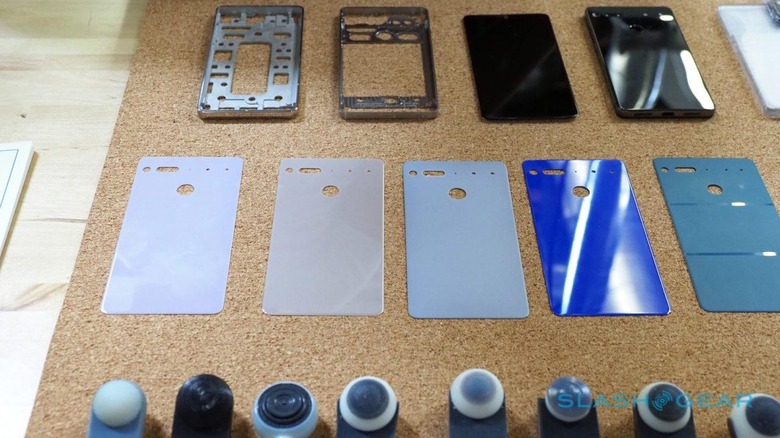 "It's a 100-percent saturated market," Rubin says of the smartphone segment in the US today. "So the cycles of innovation shift when you're in a saturated market ... you're in an upgrade market. You have to convince people to throw away their own phone."
Essential's solution is "inner-cycle opportunities," as Rubin describes it. The Essential Phone isn't the first handset to try the modularity play, but it goes about it in a very different way to, say, LG's ill-fated G5 or the Moto Z Series. While their "mods" made demands on the form-factor, Essential has done as much as it possibly can to minimize that.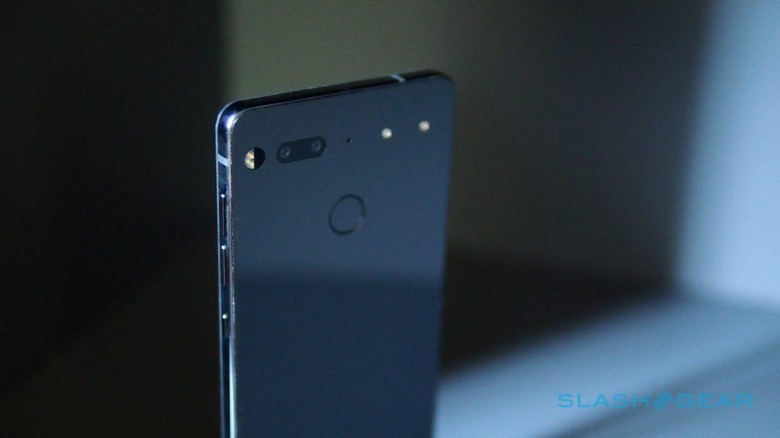 There are physical connectors to link phone and accessory together, but they're only two pads for supplying power. Data is transmitted over a special, 60 GHz wireless accessory protocol, capable of up to 6 Gbps speeds. Magnets hold the accessories in place, automatically orienting them so that they match up with the power pins correctly, with the connection automatically establishing when they're clicked together.
So far the 360-degree camera is the only fully-detailed modular accessory – there's a dock in the pipeline, but we don't know much about it – though it's a good example of Essential's thinking. Originally, the design team flirted with tightly integrated shapes, wrapping the camera's body around the upper edges of the smartphone. That thinking gave way to a more straightforward shape: it looks blunter, but it means future Essential handsets aren't locked into the same corner curvature.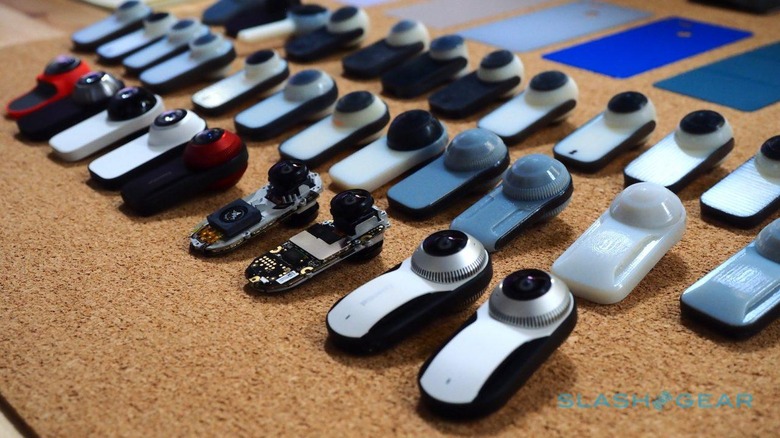 It also opens the door to using the camera with other devices. Essential Home, the company's smart hub with its distinctive circular touchscreen, will have the same two power pins on the back: clip the camera on there, and you'll have a 360-degree system that could be used for video conferencing or whole-room security monitoring. Some future accessories will be of Essential's own creation – the goal is a new one every few months – but the company also hopes to lure third-party developers into coming up with their own hardware add-ons.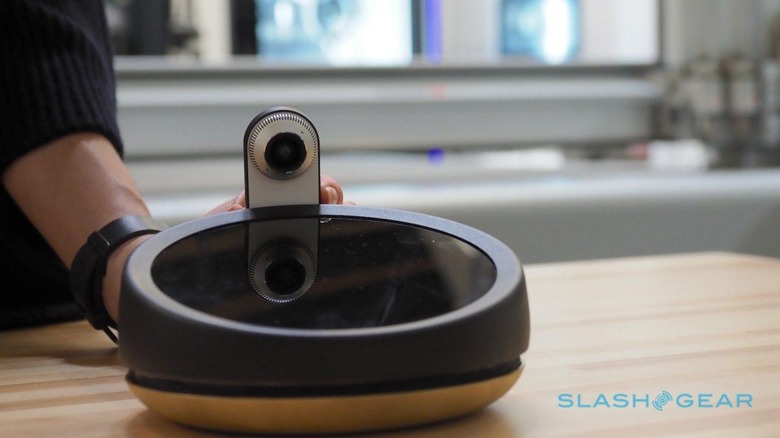 Like I said, though, that's still way off. While I played with the 360-camera some at Essential's HQ – and came away particularly impressed by the minimal join-line at the edges of the twin 12-megapixel sensors, each of which has an overlapping 210-degree field of view – it's the tip of an iceberg and still some way off delivering anything near to Rubin's vision of "a consumer-positive brand in electronics."
Without it, the Essential Phone is a very solid, very well made Android phone with the same core specifications as other high-end handsets we've seen in recent months. Snapdragon 835, 4GB of RAM, 128GB of storage, USB Type-C to fast-charge the 3,040 man battery, and an 8-megapixel front camera aren't unusual. That leaves the clever display and Rubin's commitment to make Essential something different from the status-quo to convince you to buy.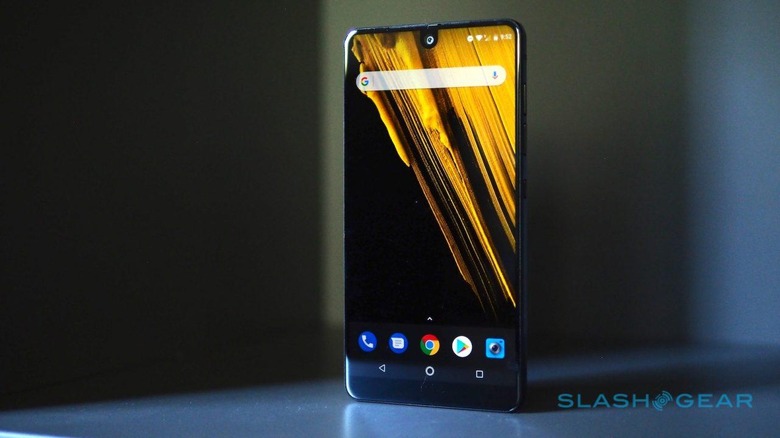 Am I convinced? I'll save that for the full review, though I do like the idea of a device that embraces modularity without most of the design compromises we've seen other phones hamstrung by. For the moment, you're able to preorder the Essential phone – either unlocked, or through an aggressive Sprint deal – today, with deliveries from September 18.