Ericsson's Apple suit ends in license deal
Shares have risen significantly this morning after Ericsson announced that they'd signed a patent licensing deal with Apple. This comes after nearly a year of patent litigation that had Ericsson accusing patent infringement on Apple, originally threatening to file a collection of patent lawsuits and seek to block sales of Apple products in the United States. It does not appear that Ericsson's request for blocking sales in the US via the US International Trade Commission did not take hold – Apple's deal with the company ends mutual suits that'd been in play since January of this year.
The original suit came from Ericsson, whose licensing deal with Apple had expired with Apple in the middle of the month of January of 2015. At that time, Ericsson sued Apple, Apple sued Ericsson, and they've been in talks to reach an agreement on "fair rates" for Ericsson patents ever since.
Ericsson also suggested that they'd been in talks to negotiate a re-up for the license of mobile technologies for up to two years before the beginning of this year. During these two years – obviously – they had not reached an agreement on license renewal cost.
Ericsson Chief Intellectual Property Officer Kasim Alfalahi suggested with Reuters that the license agreement they'd signed includes 2G, 3G, and the latest in 4G LTE technologies.
"It means we can continue to work with Apple in areas such as 5G radio network," said Alfalahi, "and optimization of the network."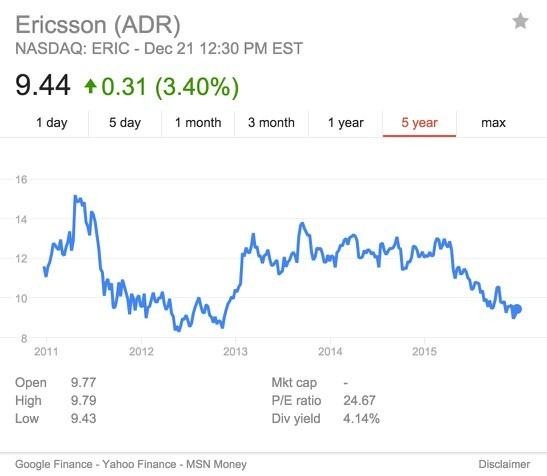 Ericsson shares today were up 5.6 percent earlier in the day, closer to 3.4% here at around noon Central Time. Stock in Ericsson is up today, but down overall, having fallen four points since late 2014.
If you're a big fan of licensing deals and litigation, this story should seem rather familiar.