Elon Musk shows Model 3 in action but there's AWD bad news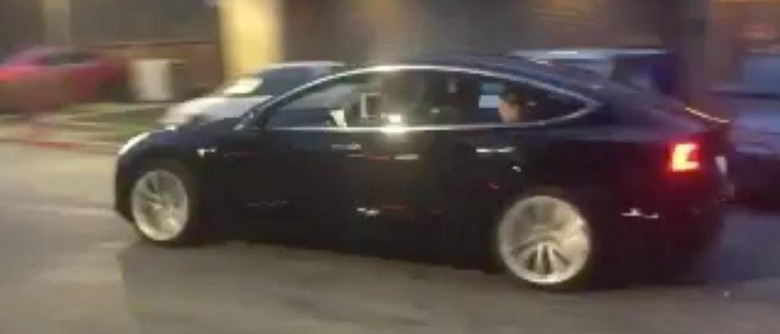 Tesla's Model 3 is on track to begin production this year, but Elon Musk can't help but tease us with a video of the car in action. The brief clip shows what Musk says is the first release candidate version of the Model 3, which is set to be the electric automakers most affordable car, making what looks to be a speedy getaway. Meanwhile, as usual any glimpse of new Model 3 information has triggered a spate of questions from would-be owners.
Musk has answered some, including some potentially disappointing news for those with early reservations hoping for particular specifications. Asked whether all-wheel drive Model 3 would be available from launch, Musk revealed that in fact the dual-motor model won't be among the first in production.
According to the Tesla founder, "we are minimizing configuration complexity to keep the production ramp on schedule. RWD only for early production, just like Model S." Later questioned on exact timescales, Musk suggested that it would likely be 6-9 months before those cars were available to order.
So, the first Tesla Model 3 reservations will only be for rear-wheel drive (RWD) cars. Meanwhile, in countries like the UK where right-hand drive (RHD) cars are the norm. Production of RHD Model 3 isn't expected to begin until Summer 2018, Musk says, apologizing but insisting that Tesla is "working as fast as we can."
Those early in the reservation line – which already has around 400,000 people in it, each having paid a refundable deposit – who want a left-hand drive, AWD Model 3 will be able to wait. They'll hold their position, too (minus those who opted for RWD, of course), Musk says, though it's unclear at this point whether Tesla will confirm final pricing for the AWD car at the same time that it announces initial RWD pricing. On the Model S, AWD carries a $5k premium over the RWD cars.
The limits of the Model 3 platform have already frustrated some would-be drivers of the car. Recently, Musk revealed that there
would not be a 100 kWh version of the Model 3
, since the battery pack for that sort of capacity simply wouldn't fit in the packaging of the car. Indeed, as the CEO says today, the Model 3 expands the Tesla line-up rather than replacing the existing Model S. "Model 3 is just a smaller, more affordable version of Model S w less range & power & fewer features," Musk clarified. "Model S has more advanced technology."
First drive of a release candidate version of Model 3 pic.twitter.com/zcs6j1YRa4

— Elon Musk (@elonmusk) March 24, 2017
MORE