Elon Musk explains first SpaceX failure in 7 years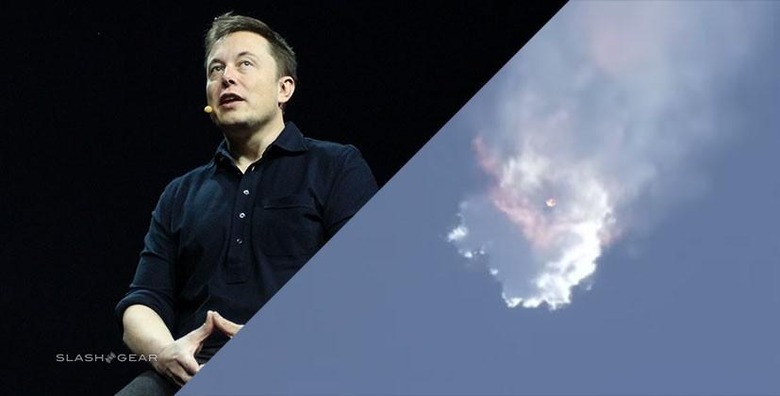 Today SpaceX CEO and founder Elon Musk spoke about the Falcon 9 CRS-7 launch failure that occurred earlier this year. This event occurred on June 28th of 2015 en-route to the International Space Station. At liftoff this flight was nominal, with no signs of possible malfunction apparent. Shortly before first stage shutdown, the flight failed. Today Musk addressed the issues that they believe may have been the cause of this failed mission. There is still no one 100% certain found cause for this mishap.
The preliminary conclusion the team have reached so far is that a COPV helium container strut in the second stage of the CRS-7 craft failed while the craft was at 3.2Gs. Instead of pressurizing the stage, this helium bottle contributed to a massive explosion.
These helium bottles are pressurized at 5500 psi and stored inside in LOX tank. When a strut breaks – like this one did – bad things happen.
Above you'll be able to play the full statement from Musk as spoken this afternoon on call with the press.
This failure was found using acoustic triangulation. Basically they listened to the bits and pieces and everything points to the failure beginning in this one spot. This is basically the "most probable" failure point, not the most certain place of failure.
The strut in question was designed to handle 10,000 lbs of load and failed at 2,000 lbs. It's likely this had to do with a bolt on the strut, and Musk suggests that materials will be changed. In addition to this, Musk suggests that all struts will be checked again after all approvals are made – no assumptions will be made from this point out.
While every piece of equipment was checked and approved, Musk suggests that from this point forward, additional checks will be made.
At this time the investigation is not showing any other failures. One strut – one break – one failed mission.
While one of several questions asked this afternoon had to do with the strut's maker, Musk is being straightforward and saying that he's not going to name the supplier because nothing good would come of it.
SpaceX relied on the certification of this supplier, and from this point forward will be conducting their own certification in addition to this first certification just to be sure this never happens again.
This is the first mission failure in 7 years ago. Seven years ago SpaceX had 500 employees, now the company has up to 4,000 employees. Musk suggested that it could be that, because they've gone so long without any failure, they may have grown complacent.
Musk also suggested that he does not expect that other missions will be pushed forward significantly. He did make certain to say that no "return to flight" dates will be given until all of the data from this flight and failure is gone over.
Additional information will become available through SpaceX and in our SpaceX tag portal as data has been analyzed.