SpaceX CRS-7 mission explodes en-route to ISS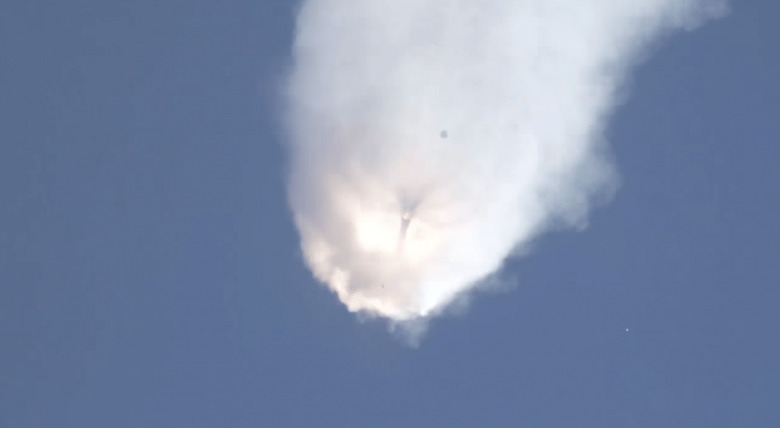 SpaceX's latest resupply mission to the International Space Station ended in failure today, as the CRS-7 mission rocket exploded shortly after take-off. An investigation is underway, with SpaceX founder Elon Musk suggesting that an issue in the upper stage liquid oxygen tank led to over-pressure. Two minutes and thirty-nine seconds after the Falcon rocket and its Dragon capsule blasted off from Space Launch Complex 40 at Cape Canaveral Air Force Station, observers were shocked to see it explode just before second-stage separation was due to take place.
Approximately twenty seconds before that, SpaceX had lost communications with Falcon, the first sign that something was remiss.
It comes as a blow to SpaceX, which has successfully launched six resupply missions to the ISS before CRS-7 as part of a $2bn+ contract with NASA. In fact, the resupply component wasn't being seen as the challenging part of the mission.
Instead, all eyes were on whether SpaceX could return the rocket to Earth on a floating landing pad, its third attempt at the all-important reuse phase which will help make the company's missions more affordable in future.
"We are disappointed in the loss of the latest SpaceX cargo resupply mission to the International Space Station. However, the astronauts are safe aboard the station and have sufficient supplies for the next several months," NASA Administrator Charles Bolden said of the incident. "We will work closely with SpaceX to understand what happened, fix the problem and return to flight."
Dragon had been packed with 5,461 pounds of cargo, including food and clothes, new equipment, and various science experiments. SpaceX and Boeing had also included components for a new docking system, intended to make for easier linking of future capsules with the ISS.
Meanwhile, a Microsoft HoloLens augmented-reality headset was also destroyed in the explosion, on its way up into orbit.
Despite the losses, NASA insists that the astronauts already on the ISS are in no danger of running low on food or water.
"The commercial cargo program was designed to accommodate loss of cargo vehicles," Bolden pointed out. "We will continue operation of the station in a safe and effective way as we continue to use it as our test bed for preparing for longer duration missions farther into the solar system."
Attention now turns to exactly what went wrong, and while it's still very early in the investigation, Musk already has some ideas.
"There was an overpressure event in the upper stage liquid oxygen tank. Data suggests counterintuitive cause," he tweeted out in the aftermath of the explosion. "That's all we can say with confidence right now. Will have more to say following a thorough fault tree analysis."
While that's underway, SpaceX rockets will be grounded for "a number of months" according to company president Gwynne Shotwell.