EE reveals 4G pricing: UK LTE from £36/mo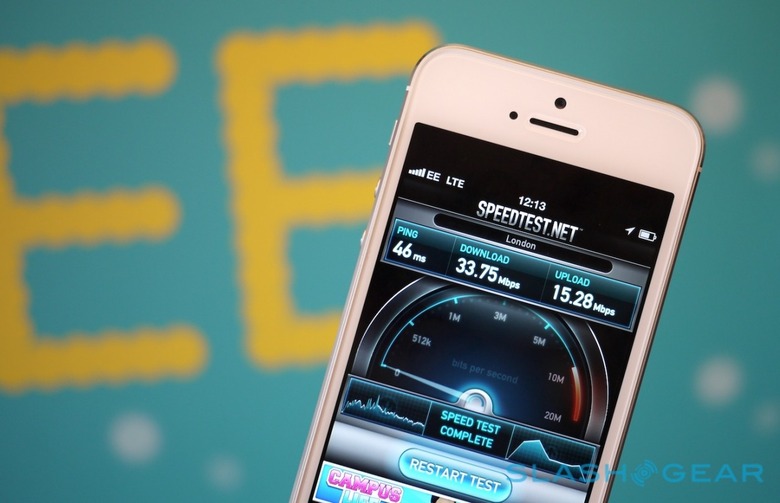 New UK 4G carrier EE has revealed its LTE plans, with a variety of phone and mobile broadband packages as well as some added bonuses each month for subscribers. For regular users, EE will offer monthly plans with unlimited calls and texts, and 500MB of data, for £36 per month; there'll also be 1GB, 3GB, 5GB, and 8GB packages for £41-£56. Meanwhile, mobile broadband is priced from £15.99 per month for 2GB. Full pricing and details after the cut.
EE's consumer plans are based on a 24-month contract; if you'd rather go for a 12-month contract, it will cost an extra £10 per month. All subscribers get access to BT WiFi hotspots in addition to their mobile data allowance; if you run out of mobile data, you can add on more directly from the phone, priced at 50MB for £3, 500MB for £6, 2GB for £15, and 4GB for £20. Users will get an alert on their phone when they've used up 80-percent of their monthly allowance, and both tethering and VoIP use are permitted.

12-month SIM-only plans – useful if you've bought an unlocked iPhone 5 from the Apple Store – will be available from November 9. They're priced at £15 per month cheaper than the 24-month plans, too, kicking off at £21. If you want a 30-day rolling agreement, that's also available SIM-free, though you only get £5 per month off the contract pricing.
As for mobile broadband, EE will offer both a USB dongle and a mobile hotspot (which supports up to five WiFi-tethered devices), with 18-month plans. For consumers, they kick off at £15.99 for 2GB per month, rising to £20.99 for 3GB, and £25.99 for 5GB:

If you're already a T-Mobile UK or Orange subscriber, there are a few routes to transition over to EE. If you joined in the last six months, you can pay a one-off fee of £99 to upgrade a Galaxy S III, iPhone 4S, or HTC One X to a 4G handset and new, 24-month EE agreement. If you buy a 4G handset outright, meanwhile, you can switch over to a new, 24-month EE agreement at no extra cost. Finally, if you're more than six months into a T-Mobile or Orange agreement, EE will discount the costs involved in jumping to a 4G contract with the new network.
New 24-month EE smartphone prices per consumer tariff:

Subscribers will get access to one free EE Film rental per week, in a promotion running up to the end of February 2013, which can be accessed on a smartphone, or via a PC/Mac; if your device has an HDMI output, you'll be able to watch it on your TV, too. Downloading that film over 4G won't count against your monthly data allowance – useful, given each 720p movie comes in at around 750MB, EE tells us – though that might change after the initial promotion ends at the end of Q1 2013. EE says it hopes to continue the scheme, in some form, but that it hasn't decided exactly how it will work. 2-for-1 cinema tickets will also be offered to subscribers each Wednesday.
EE Film demo:
Those on £41 per month or above plans will also get to choose either a free streaming pass (with offline caching) to the Deezer music service, or a choice of two premium game downloads per month. Alternatively, they'll be able to choose Mobile TV access, with 19 channels including Channel 4, Eurosport, and Cartoon Network. Subscribers will be able to change their "perk" of choice every 30 days.

Finally, there's Clone Phone, EE's insurance policy and backup system for 4G handsets. It works via an app on the device itself, backing up photos, videos, and contacts (along with music, depending on the platform) and, if your phone is lost or stolen, you can track it remotely via your browser, or send alert messages to it. If it's gone completely, EE will replace it within 24 hours, and you can restore your content from the Clone Phone backup; there's a £50 excess to pay, but there's no limit on how many times you can take advantage of the replacement policy.
For an indication of the sort of speeds you might expect from EE, check out our benchmarking tests.