EcoReco M3 Electric Scooter Review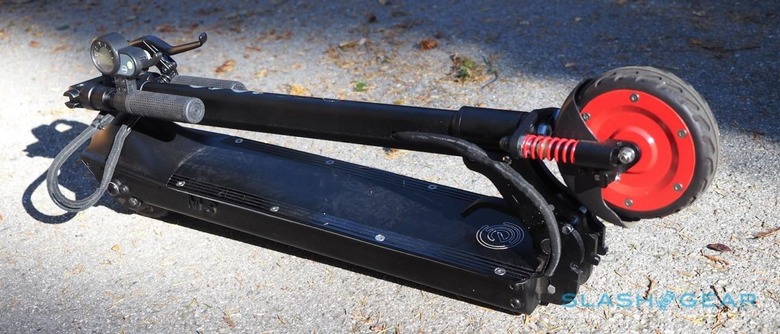 What with Uber, Zipcar, Lyft, and more, does your average Millennial really need a car? EcoReco would probably agree, its M3 electric scooter promising both "last-mile" convenience and a good dose of fun. I'm not quite a Millennial, but I was curious whether a car-less lifestyle was something achievable without riding a kid's toy.
With a $999 price tag I was expecting more than toy scooter build quality, the M3 does not disappoint. Made of matte-black aluminum and stainless steel, it's rated for riders up to 250 pounds. Pop a couple of latches and give the handlebars a tug, and the whole thing folds up; you can pick it up by the locked-down front bar, but at 34 pounds it's often easier to just wheel it about.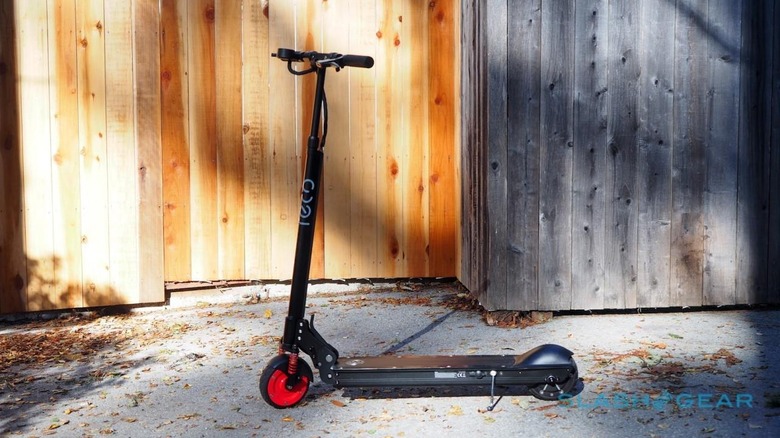 EcoReco supplied its optional travel bag, a $139 accessory which has its own compact wheels on the bottom.
Control is via a small lever mounted on the right handle, with a blue-backlit display, a power button, and a mode button that switches between showing speed, the odometer, and charge status. There are no front or rear lights for evening use, though you could easily strap on some LED bike lamps.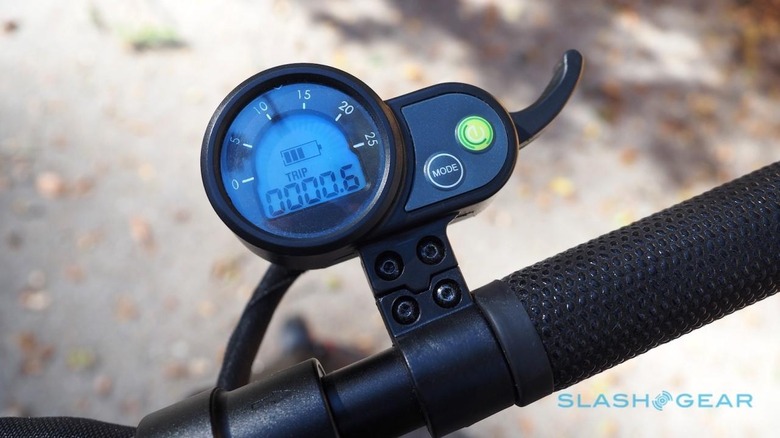 The M3's solid rubber wheels mean less maintenance but a harder ride. At the front, there's a twin-coil suspension system, though the rear wheel is fixed. You definitely feel it on poorly-maintained sidewalk, though while I was expecting my teeth to shake out, with a little deft steering around the bigger cracks and potholes I was able to keep my mouth intact.
That's assuming there's a smoother path to wind your way around. Faced with cobbles, the M3 judders and shakes. If you want to avoid that there's the M5 which throws in rear suspension too, and has an option for air tires instead of solid.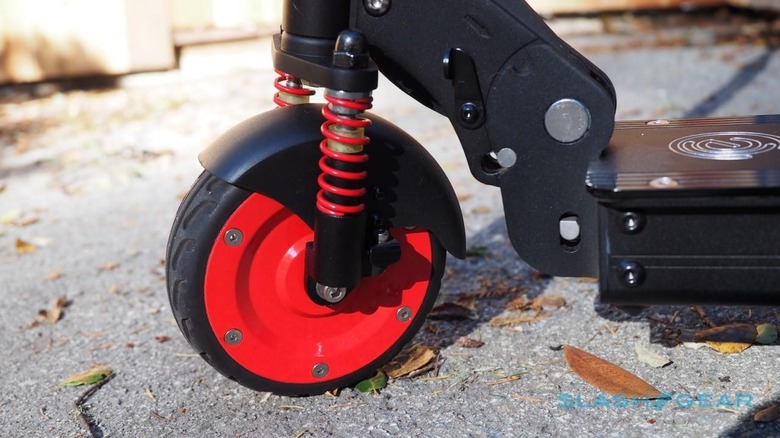 I'm not known for my sense of poise and deft balance, but that didn't prove to be too much of an issue. EcoReco's simplistic control cluster has a finger-trigger to control speed; to actually get underway, you need to kick-start the M3 forward, and when you're over 2 mph the motor kicks in.
It takes a little getting used to initially, but it does mean you're less likely to be thrown off the back as the scooter lurches out from underneath you. The throttle itself can be a little over-eager in the first few degrees of movement, though that settles at higher speeds.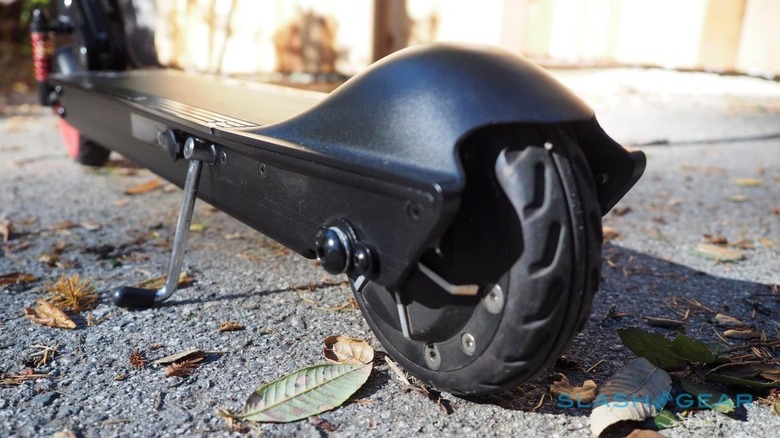 I found pulsing it gave me a greater feeling of control than simply yanking the lever back, while its resistance without power brought the speed down gently without needing to reach for the brake – which affects the rear wheel only – most of the time.
One of the main questions I had was whether the M3 would handle hills, something San Francisco is known for. Unfortunately my dreams of whipping up Lombard Street, the wind in my hair and the scooter doing all the work, proved over-ambitious. You'll definitely need to augment the motor with some foot power yourself, though to be fair EcoReco did warn me that would probably be the case.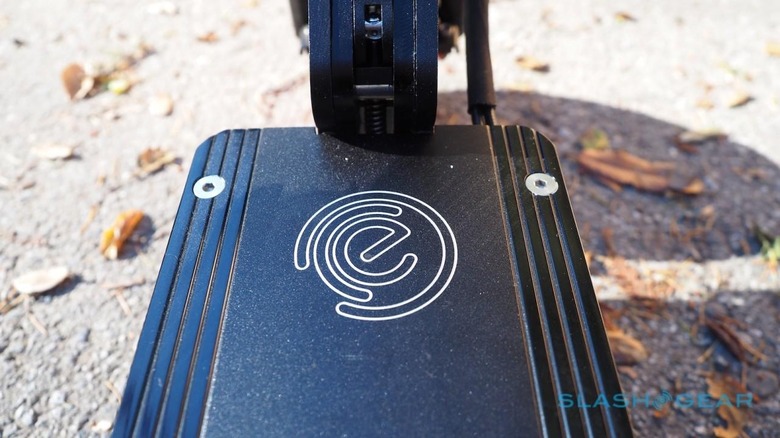 If you suddenly squeeze both the throttle and the brake, the M3 defers to the latter and cuts the speed of the engine.
Ride quality aside, it's not hard to find a comfortable position on the scooter. The handlebars adjust for height, while the deck itself is a fairly broad 5.5-inches wide and leaves plenty of space to stand. A kickstand on the side looks dainty, but has no problem holding the scooter upright.
Under the deck is the 36 volt, 8 amp battery, while the 250 watt motor lives in the rear wheel. The battery can be removed, but it's really designed to be charged in place, with a small rubber cover for the port. EcoReco suggests a full charge takes 4.5 hours from the included 110V charger, though it should hit 80-percent in two hours less than that.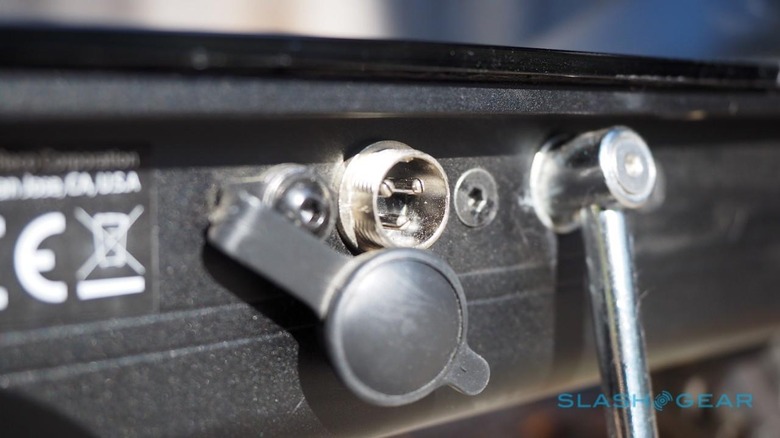 With a full battery, total range is billed as 20 miles with a top speed of 20 mph. Downhill, you'll do more, if you're brave enough, though it's worth noting that you can have maximum range or maximum speed, but not both. Figure on doing more like 10-12 mph, and you should get around the 20 mile estimate.
Contrast that with E-TWOW's e-scooter which we reviewed back in late September, meanwhile, and for the same price you get less range and a lower top speed, but a lighter overall design. The E-TWOW also uses regenerative braking, where you're recharging the battery as you slow yourself.
Wrap-Up
You pay a premium for the M3's premium features. It's much sturdier than the cheaper toy scooters out there, and definitely built to handle adult riders rather than just kids.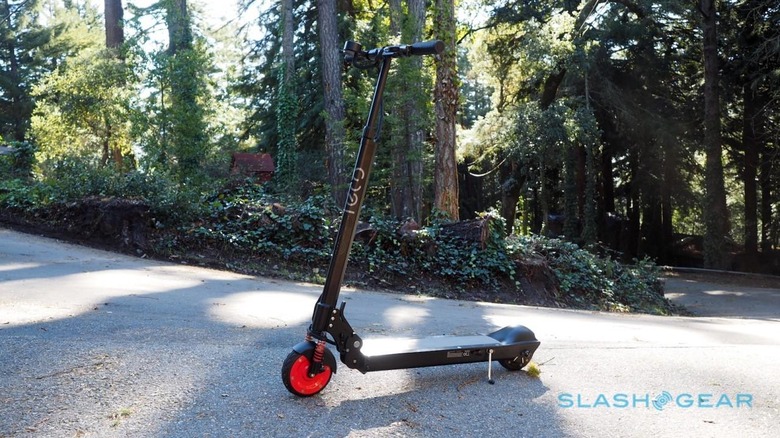 That's not to say there aren't compromises still. Speed, range, and ease of riding are all there, but ride comfort is heavily dependent on the sort of surface you're traveling on.
I used it to go from home to the nearest Zipcar, leaving it in the trunk while I drove and then whizzing back afterwards. As a fun distraction, it's a little rich for my blood, but were I looking for a last-mile option to fill in the gap from home to public transportation and then back again, the M3 starts to make a lot more sense.
MORE EcoReco