E-Noa Interpad Tegra 2 tablet hands-on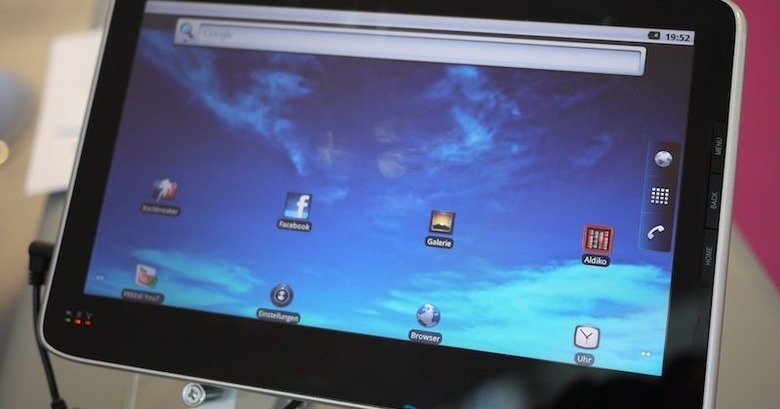 E-Noa's Tegra 2 based Interpad was one of those tablets we harboured quiet doubts over back in July, uncertain whether the company could beat big-name rivals to the market with their Android 2.2 slate.  Having met the company at IFA 2010 this week, though, it seems they're well on their way to making some sales.  The Interpad isn't quite ready – E-Noa are apparently still working on a custom UI that will suit the 10-inch 1024 x 600 multitouch display – but it was certainly functional enough.
In its unfinished software state, there are still some obvious glitches.  The presence of a phone icon on the homescreen is one, since while the Interpad will be offered with optional 3G/UMTS it won't make voice calls, instead using only cellular data.  E-Noa are keeping the details of the UI close to their chest, too, since there's no sign of any screenshots or mockups on the company's site and they couldn't tell us at the show exactly what will change.
Tegra 2 kept things running smoothly, though with no wireless connection for the Interpad's WiFi b/g/n (paired with Bluetooth 2.1 as standard) we couldn't try out the browser.  It'll play back up to 1080p video (supporting MPEG2, H.264 and VC-1 codecs, among others) and E-Noa are still claiming an ambitious 8-12hrs of battery life from the 3,500mAh pack.  That sizeable battery adds up to a hefty slate, though it's a little thinner and a little lighter than Toshiba's Folio 100.
It's hard to pass judgement until we see the final software, since so much hangs in the balance of how user-friendly the core Android OS is on a significantly larger display than a smartphone.  At €399 ($515) for the non-3G version, it's priced the same as the Folio 100, though we've a feeling most users would opt for the recognizable brand name.  As IFA 2010 has shown, the tablet segment is hotting up and within a couple of months there'll be no shortage of above average hardware that the Interpad may have trouble standing out from.