Dyson Air Multiplier AM02 and AM03 bladeless fans debut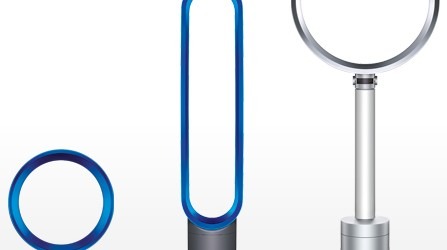 Dyson has launched two new fans, using the same unusual blade-hidden design of the original Dyson Air Multiplier debuted back in October 2009.  The  AM01 desktop model is joined by the Dyson AM02 Tower Fan, a floor-standing unit with full-length air pushing abilities, and the Dyson AM03 Pedestal Fan, which basically takes the head unit from the AM01 and puts it on a free-standing mount.
As before, the AM02 and AM03 take the blades of regular fans and house them in the bottom part of the Dyson system.  The fast-moving air is then ducted up and through the hooped "head" section; because there are no blades to chop at the air, the fans are quieter despite being stronger than traditional models.  Both new models come with a remote control for easier use.
Both the AM02 and the AM03 are priced at £299.99 ($443), £100 more than the original AM01.  The AM03 is only available in white/silver, while the AM02 will come in silver or blue.  No word on when exactly they'll go on sale, but you can register for more details.
[via Tech Radar]