Droid Bionic silent walkthrough video surfaces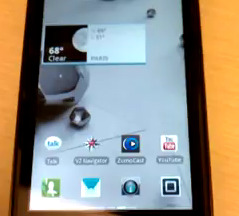 We know we're getting close to the launch of the much delayed Motorola Droid Bionic when we start seeing official Verizon teaser videos for the phone. The most recent featured a Natalie Portman look-alike wielding a sword, but the phone itself never made an appearance. Perhaps more helpful for those who actually want to see the phone, is this newly leaked walk-through video.
The video is silent but goes for a full four minutes to walk through the Droid Bionic interface, showing its static and live wallpapers and even throwing in an LTE speed test and pointing out a home screen bug. Overall, the phone is looking mighty speedy as animations and transitions pop up in a snap.
And now that the Samsung Galaxy S II won't be heading to Verizon, the Droid Bionic will indeed be the first and only dual-core LTE bad boy on the Verizon network for now. The phone is set to get a 1GHz dual-core processor, a 4.3-inch qHD display, a VGA front-facing camera, and a 8-megapixel rear-facing camera capable of full 1080p HD video capture. The Droid Bionic will come running a new Motor Blur UI on top of Android 2.3 Gingerbread and is expected to launch on September 8.
[via Android Community]