Pre-orders for Drobo's latest external storage arrays have opened, with retailers offering up early spots for the new Drobo 5D and Drobo Mini ahead of their September release. Announced back in June, the two models pack Thunderbolt connectivity and optional mSATA SSD bays that can dramatically increase performance, and Drobo claims that pre-sale interest in the pair has been the most frantic of any of the company's models.
Multiple retailers are officially offering pre-orders. Amazon has the Drobo Mini and the Drobo 5D priced at $649 and $849 respectively, while CDW has the Mini and the 5D at $689.99 and $899.99 respectively. Finally, TigerDirect will also be offering pre-orders, though currently does not have either model listed; Drobo says that should happen in the next 24hrs. There are more retailers listed here, and Drobo offers the Mini and 5D direct.
If you haven't been keeping up, the Drobo Mini is the company's most compact model so far, a 7.3 x 7.1 x 1.8 inch box with room for four 2.5-inch drive bays and a mSATA SSD bay enabling new Drobo Accelerator, a caching system for speeding up overall performance. Two Thunderbolt ports – the second for daisy-chaining devices together – along with a USB 3.0 port round out connectivity, and Drobo is even including all the necessary cables.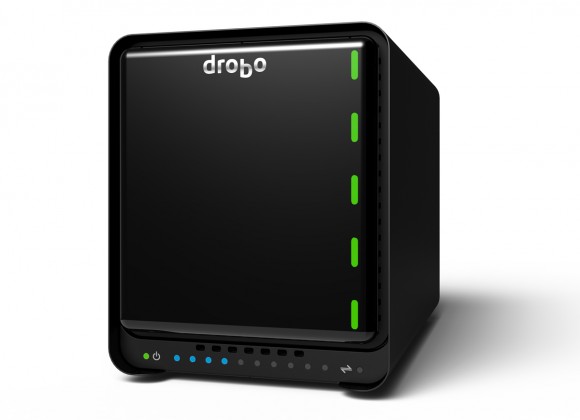 As for the Drobo Mini, that steps up to five 3.5-inch hard-drive bays, and has the same trio of ports and all the required cables. It also has the mSATA SSD bay for boosting performance, and Drobo claims it runs quieter than its last-gen model.