Drift HD Ghost Review: 1080p hardcore camera action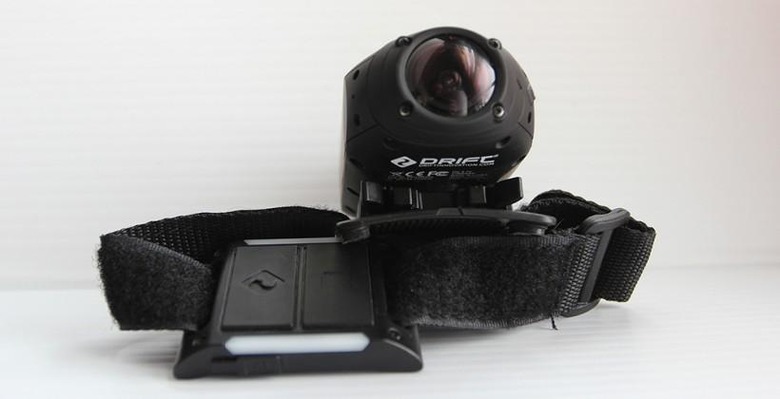 The action camera known as the HD Ghost is one that Drift innovation delivers as their premiere top-of-the-line on-the-go media collector for the next mobile-friendly generation. With it, you're going to be able to collect 1080p HD Video, 11 megapixel photos, and up to a massive 120fps video (in VGA mode). The basics for a top-tier action camera are all here – now it's all about making sure we've got the connections we need to compete with the the other big guns in the industry.
Hardware
Here with this hardcore amalgamation of metal, soft-touch plastic, and real-deal Gorilla Glass protection, you've got a camera that's ready to be tossed around. Of course you're going to want to treat this several hundred dollars worth of electronics with the care that such a price describes, but you should take rest in the fact that this device was indeed built to take a hit or two. The Drift HD Ghost is water proof to 3m (9.84ft) right out of the box, too – mind that correction in the hands-on video here:
The Drift HD Ghost works with what Drift notes is an "Enhanced 7 Element Lens Design". In this case they note that with seven separate unique elements right up front, you'll be able to capture high clarity video with "stunning" color no matter where you're filming. You'll be able to judge that for yourself in the set of images and video we've got below, should you care to take a look. This unit's lens works at 170 degrees (or just 130 degrees at 60fps) and is fully rotate-friendly – and it's so tightly connected you'll never turn when you don't want to!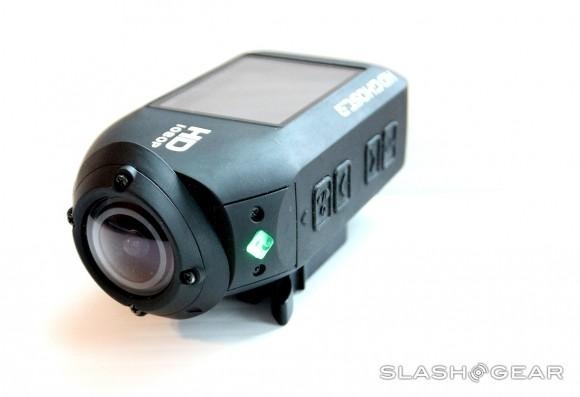 In addition to being able to capture audio right from the built-in microphone on the device, you've also got a 3.5mm microphone connector coming out the back. This port is accessible with one of several in-box backs you can attach to the device, each of them with their own unique purpose. The back we've got on the device here also allows you to connect directly to your computer through the device's mini-USB port. Under the back you've also got a mini-HDMI port (Type c) so you can play videos and videos you've captured straight through an HDTV!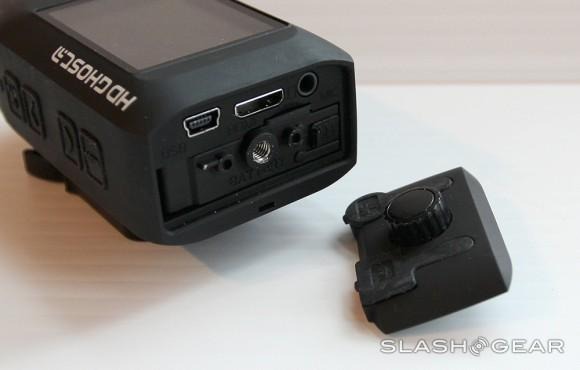 Inside the box you've also got a goggle mount, curved and flat surface mounts, a universal camera clip, and a velcro strap. The battery you get with this camera is 1700mAh strong and has lasted us over a week at a time with regular use – it's almost magical. And if you need more time away from civilization, Drift sells individual batteries you can swap in and out. Also in the box is a miniUSB cable, 3.5mm microphone extension cable, accessory travel case, and a simple guide (if you happen to need it).
Software
This device uses its own unique user interface and software as you'll see plainly in the hands-on video above. It also connects easily with your iPhone right out of the box using wifi. All you'll need to do is click in to the settings on the camera, turn on wifi, and connect to the camera as you would on your iPhone to any other wifi network – the HD Ghost is the projector of said wifi signal rather than the receiver. Control works then through your iPhone with the free Drift App straight from the iTunes app store – it's just called "Drift App".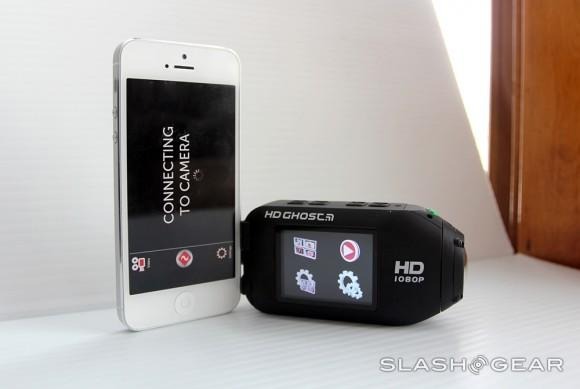 This device also connects to an included two-way remote that works with a couple of buttons that make operating extremely simple. Turn it on, connect, and you'll have only to press record from there. This "Drift Active Status Two-Way Remote" allows you to capture media from up to 30 feet (10 meters) away wirelessly in each of the device's main capture modes: Video, Photo, Timelapse, and Photoburst.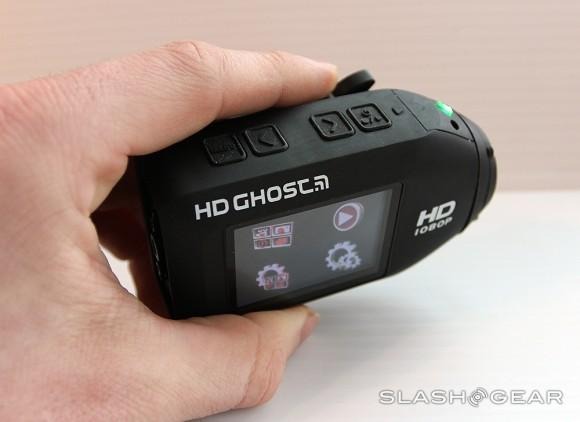 In short – the software is surprisingly simple to use given the four-button control you'll be using on the camera itself. Connecting remotely is even simpler than the basic on-device experience, too – anyone can do it. This control panel interface also works in 15 languages so the whole universe can have a try.
Video and Photos Examples
This device is able to capture 11 megapixel photos, but more than likely you'll be working mainly with video capture at 1080p at 30fps. Our first example of video is captured from a shopping cart exiting a department store in the evening on an otherwise snow-covered clear day. Note that this capture was done with the straight out-of-box camera experience, no attachments or audio enhancements made – standard mic, that is.
The camera has thus far proven itself to be a generally generous video capturer, though not one we'd use outside of hardcore situations that require such protection for the unit itself. In other words, if we're heading to a birthday party and where a gift opening needs to be filmed, it makes a bit more sense to simply use a smartphone. If we're jumping off a cliff with a parachute, it's time for the Drift HD Ghost. Below you'll see a collection of photos captured with the device as well. Note that the wide-view angle is one of the stronger points of excellence on this device.
Wrap-up
The Drift HD Ghost is a strong device in its ability to attach to a variety of equipment and capture video and photos on-the-fly. It's extremely easy to use, and outputs media that you'll be more than pleased you captured. Drift Innovation is the sort of company you know will continue to support this device, also, into the future – so official accessories and replacement parts will be available to you for some time to come – they're already several cameras deep!
Right this minute you'll be able to pick up the Drift HD Ghost action camera for around $399.99 brand new. Again, it's the highest-end solution offered by Drift and it's a real contender in this space!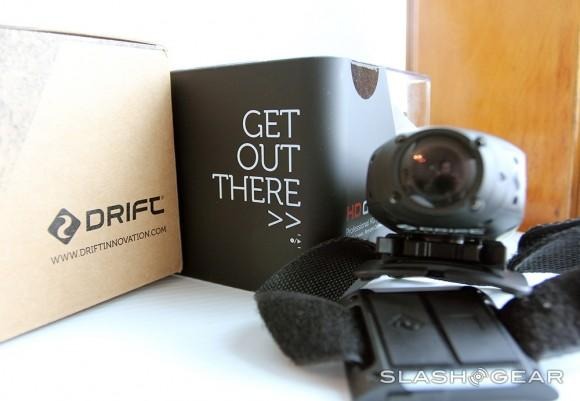 Have a peek at the Looxcie HD Explore as well as the ContourROAM reviews we've done in the past to see what else is available out there for you, and note that GoPro Hero series is also available to you as one of the high-end solutions in this space. Mobile connections are hot, hardcore action is a must, and right this minute the Drift HD Ghost is one of the top pacesetters for this type of device, without a doubt!