Dramatically-reinvented 2021 Toyota Mirai is a hydrogen car worth coveting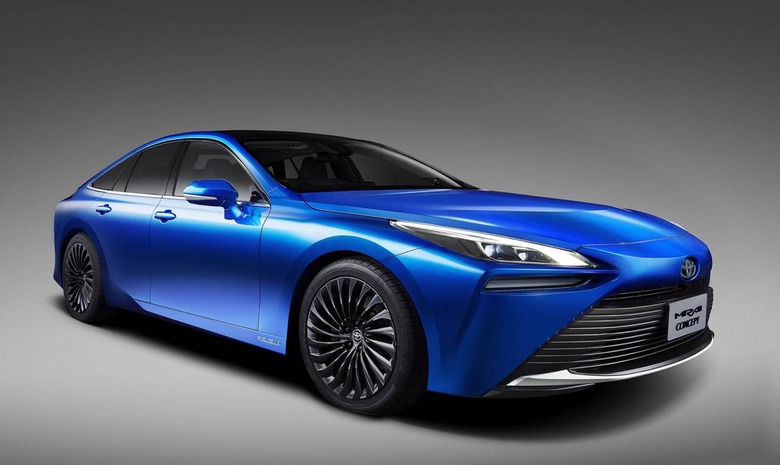 Talk about a glow-up: Toyota's fuel-cell electric vehicle (FCEV) has flourished from caterpillar to butterfly, with the 2021 Mirai promising to be an eco-friendly car you actively want to drive. Previewed as the 2021 Toyota Mirai Sedan Concept ahead of the second-generation car's full debut in late 2020, the new model promises an increase in range from its hydrogen drivetrain, along with more engaging driving dynamics.
It's fair to say the first-generation Mirai was fiendishly clever; it's also fair to say that its design was an acquired taste. Angular and dotted with gaping grilles, from some angles it looked like a small Orca. Even a Back to the Future makeover couldn't hide the fact that it was never going to be considered beautiful by conventional standards.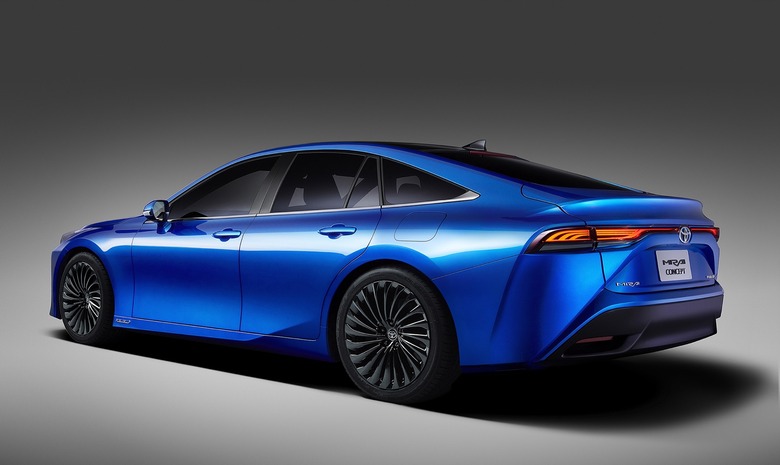 Toyota seems to have taken that feedback to heart – little else explains what a dramatic turnabout the Mirai has made in its second-generation. Indeed beyond the name and the hydrogen, the 2021 Mirai is shaping up to be practically a whole new car altogether. One that you might actively want to park on your drive.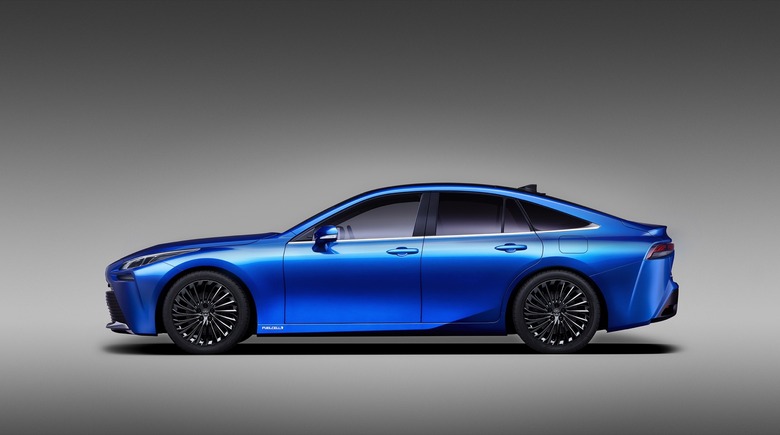 The "coupe-inspired" styling is dramatic and bold, doing away with the awkward hatchback and replacing it with a sedan form-factor. It's longer and wider than the outgoing Mirai, but lower. Vitally, there's an extra five inches in the wheelbase, which adds up to improved cabin space.
Toyota has been able to achieve that by switching to an all-new platform compared to the current car. The 2021 Mirai is now rear-wheel drive rather than front-wheel drive, as well as being more rigid. It means more room for up to five inside, but with an improvement in aerodynamics too.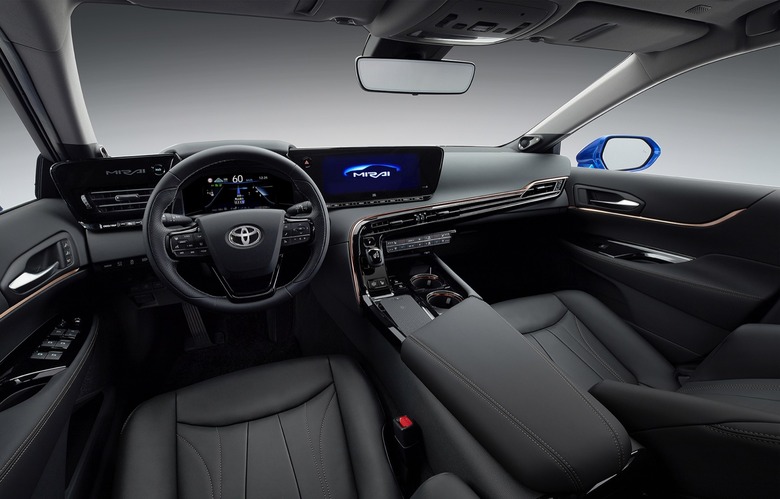 It's a huge change, and leaves the new Mirai positively appealing on the 20-inch wheels Toyota will be offering as an option. The cabin should be more luxurious too, the automaker promises, not to mention quieter on the road. There'll be a 12.3-inch infotainment touchscreen with navigation and a 14-speaker JBL audio system as standard, along with an 8-inch digital display for the driver's instrumentation. A camera-based rear-view mirror will be available, along with parking assistance and Qi wireless charging for your phone.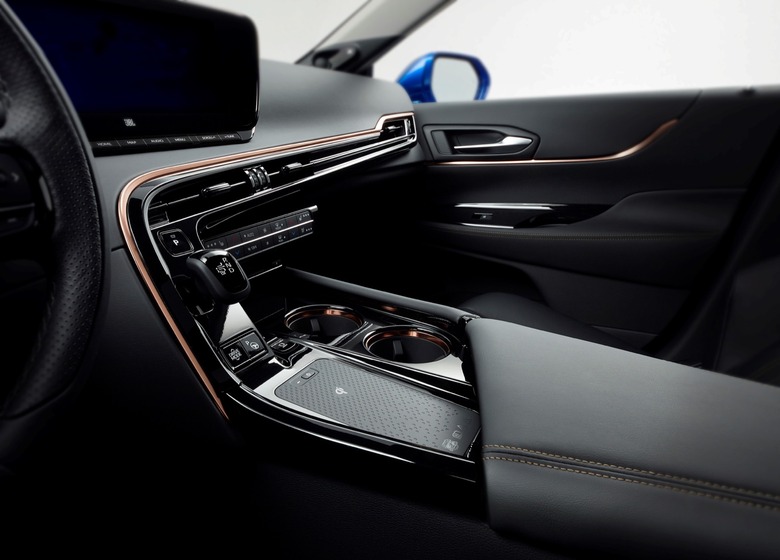 Perhaps most compelling, Toyota says the 2021 Mirai should be more engaging on the road. As before it'll be exclusively hydrogen-powered, but the automaker is targeting a 30-percent increase in range from the current car through a combination of boosted fuel-cell efficiency and a larger hydrogen storage capacity. That suggests around 405 miles, versus the current 312 miles the EPA rates the existing Mirai as good for.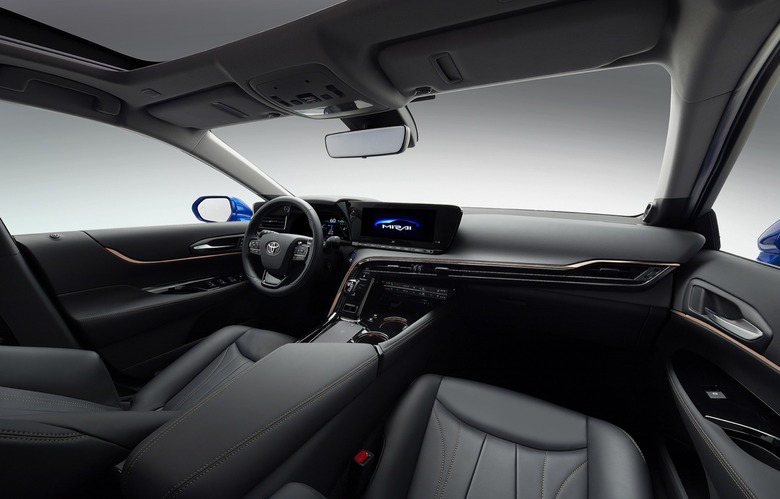 The power – which is converted in the fuel cell system from hydrogen to electricity, supplying electric motors that drive the rear wheels – will be more enjoyable too. Toyota isn't revealing any specific figures yet, but says the second-gen Mirai should offer more performance and a more dynamic feel from behind the wheel.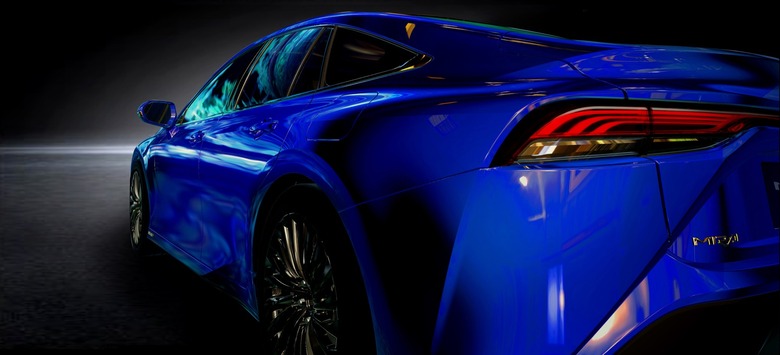 "I want customers to say, 'I chose the Mirai not because it's an FCEV, but because I really wanted this car, and it just happened to be an FCEV.'" Yoshikazu Tanaka, Chief Engineer of the Mirai, suggests.
Certainly, there are areas where FCEVs have advantages over all-electric cars along with gas-electric hybrids. A roughly five-minute refueling time is comparable to traditional internal-combustion vehicles, and much faster than a BEV would take to charge. However unlike with an ICE, the only emission from the Mirai is pure water.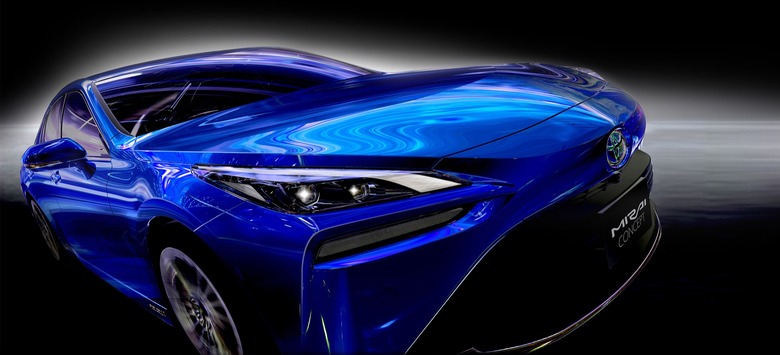 Nonetheless those advantages have been diluted by the reality of the larger FCEV ecosystem. Toyota currently only sells the Mirai in a handful of dealerships in the US, because there are only a relatively small number of locations where hydrogen fuel is actually available. Right now that means you're basically limited to select spots in California or Hawaii.
Toyota points to plans for stations in the Northeast and other areas, but the truth is that, for some time to come, fuel-cell vehicles are going to be a relative rarity. At least if the 2021 Mirai drives as well as it looks, that might be something that more people want to see changed.