DJI Spark camera update adds gesture-controlled video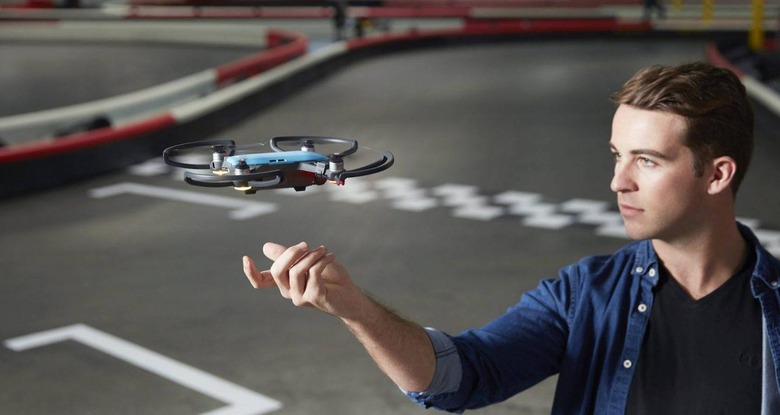 DJI's Spark drone has gained a host of new camera abilities, with the "flying camera" getting a fresh firmware update today. The Spark, launched back in May 2017, is DJI's most affordable and compact model, but also promises to be the company's most easily controlled. That's courtesy of many of the drone's features being gesture controlled, something DJI has built upon with this new firmware.
So far, you've been able to navigate the Spark using hand movements, as well as start it following you, and take photos. New, though is the ability to start video recording. As long as the Spark is within around six and a half feet of you, by holding one arm out until it's around 45-degrees above parallel to the ground and holding it there, the Spark will begin video capture.
A combination of blinking front LEDs will indicate that recording has started. Stopping capture, meanwhile, can be done with the same gesture. While it may look small and simple, the Spark actually packs a decent amount of hardware into its compact body. Navigation is handled by dual-band GPS, GLONASS, a forward-facing 3D sensing system, downward-facing vision system, and inertial measurement, while there's an obstacle detection system that works with potential hazards up to 16 feet away.
Easier video control isn't the only camera improvement, mind. There's now the ability to make a 180-degree panoramic image, with the Spark capturing 21 individual photos and then combining them together. The drone already supported vertical and horizontal panoramic modes.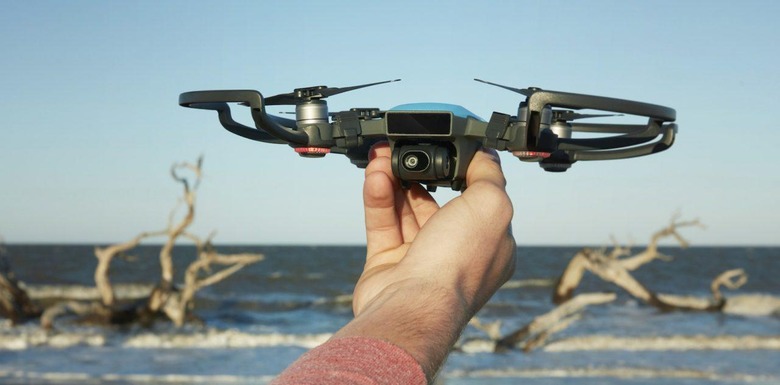 Meanwhile, both ActiveTrack and Gesture Modes have seen a resolution bump, each now supporting up to 12-megapixel captures. DJI has tweaked how each of its QuickShot Intelligent Flight Modes perform, with the ability to choose in which direction the drone will turn in the Circle and Helix modes. Dronie mode now adds extra height as the Spark shoots up into the air above you, while Rocket mode has a smoother pitch angle.
Finally, there are the expected bug fixes and polishes, with DJI saying the Spark should be more responsive to the controller, should you actually choose to use it. Connectivity between both parts has been improved, too, and the flight logging system for DJI's Intelligent Battery has also been enhanced.
You can install the new firmware by downloading it on the remote controller and the drone itself; that also updates the Intelligent Battery system in the same process. You'll need the latest version of the DJI GO 4 app, too, which is available in the Apple App Store and Google Play store.