DJI Mavic 2 leak teases swappable cameras and 360 sensing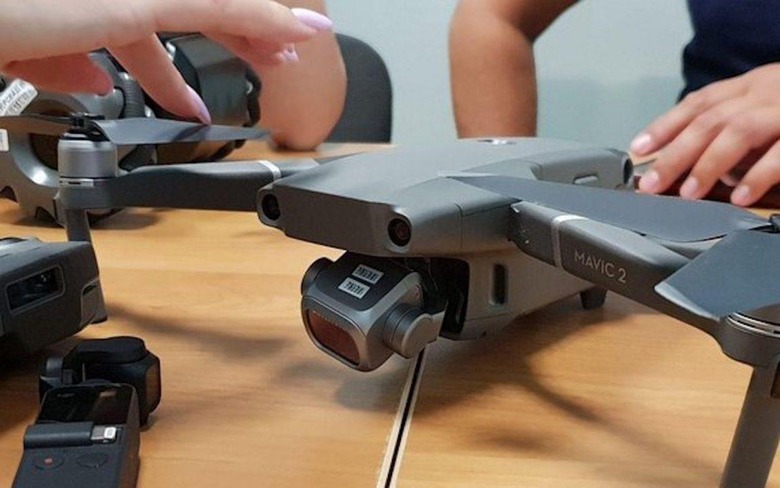 DJI's newest – and unannounced – drone, the DJI Mavic 2, has leaked, giving a sneak preview of the sleeker UAV. The new drone could indicate a split of the Pro line, with DJI potentially leaving room for an even more capable version, though there's still plenty to like in what we've seen of this model.
Until now, DJI's flagship consumer drone has been the DJI Mavic Pro. Intended to be more portable – courtesy of folding arms – but still delivering 4K video, it has 27 minutes of flight time and obstacle avoidance. Now, though, its successor has emerged.
That's to be the DJI Mavic 2, DroneDJ reports, with a tipster sending in a shot of the unannounced model. It has a more streamlined body than the current Mavic Pro, though appears to use the same folding mechanism. The motors are seemingly larger, though they're not fitted with the DJI Mavic Pro Platinum's "quiet" rotors.
What's particularly intriguing is the camera and gimbal assembly. For a start, the gimbal seems to be removable: one possibility is that DJI is doing it that way so that it can be used as a standalone stabilized camera. We've seen that done before, with GoPro's ill-fated Karma. A second camera and gimbal assembly is alongside the leaked drone, which suggests there could be interchangeable systems.
That may be to go with different cameras. Certainly, the image suggests two sizes of sensor, which could add a modularity to suit different photography and videography needs, not to mention different budgets. Whether that includes a zoom remains to be confirmed.
Finally, there are front and side obstacle avoidance sensors visible, likely to go along with bottom and back sensors. That would give 360-degree sensing around the periphery of the Mavic 2, as well as underneath it.
As for how it fits into DJI's range, that's still the subject of some speculation. The fact that this is apparently the Mavic 2, not the Mavic Pro 2, could well mean that DJI has two new models in the pipeline, not just one. The legs of the drone in the image have silver bands which, it's speculated, might indicate in DJI color parlance that this is the entry-level model. A gold-banded version may well end up being the Mavic Pro 2.
How they'd differentiate between the two is unclear at this stage, but we're expecting to hear about at least one drone soon.