DJI made Apple a special Mavic Pro drone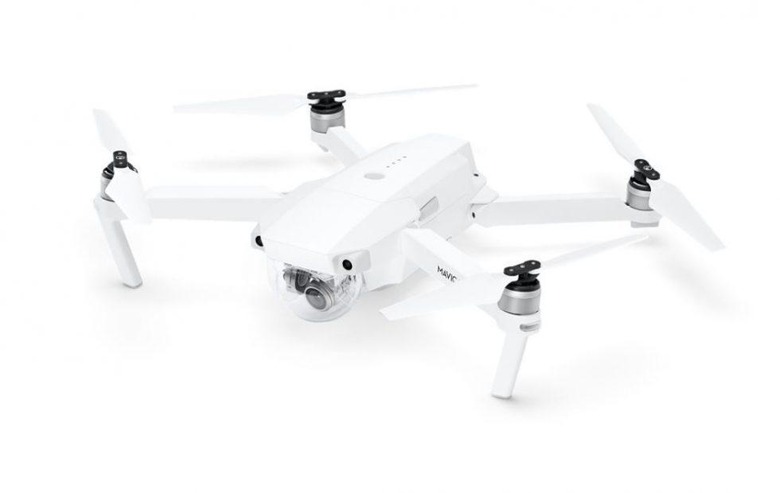 It's been an interesting day over at the Apple Store. Not only did we see the new
MekaMon augmented reality robot go up for sale
through Apple's online storefront, but now drone maker DJI has joined the party as well. Its new Mavic Pro Alpine White is an Apple Store-exclusive item, and it's launching in a new bundle pack aimed directly at holiday shoppers.
Those of you who already own a Mavic Pro can take a sigh of relief. It doesn't sound like anything about the drone itself is changing with this release, so your
current drone is still a capable piece of hardware
. Instead, this new release gives the Mavic Pro an "Alpine White" coat of paint and bundles it with a few handy accessories.
Picking up the Mavic Pro from the Apple Store will net you a remote controller, a pair of DJI's Intelligent Flight Batteries, two additional sets of propellers, and an aircraft sleeve. In keeping with the theme, the remote and the propellers are also Alpine White, giving the drone and its accessories a certain degree of color synergy. It doesn't seem like you can buy the Alpine White Mavic Pro outside of the bundle, so you'll have to get those accessories – and pay an increased price – if you want to make this yours.
The Mavic Pro is somewhat smaller than DJI's other consumer drones, as its foldable design makes it good for those who plan to take their drone on the go. Despite that, it's capable of recording 4K video and staying in the air for up to 27 minutes, which is comparable to a lot of DJI's other drones. It also has a 4.3 mile range and can be flown using an app on your iPhone – something that's to be expected if Apple is going to offer it on its Store.
In short: if you were impressed by the Mavic Pro before, then expect to be just as impressed by this new release. DHI says that this is a limited time bundle, so don't expect it be around forever. If you want to jump on it before it goes away, you can pop over to
and pick one up for $1049.95.