DISH reveals Alexa Hopper skill, DISH Music, and Sling TV certification for devices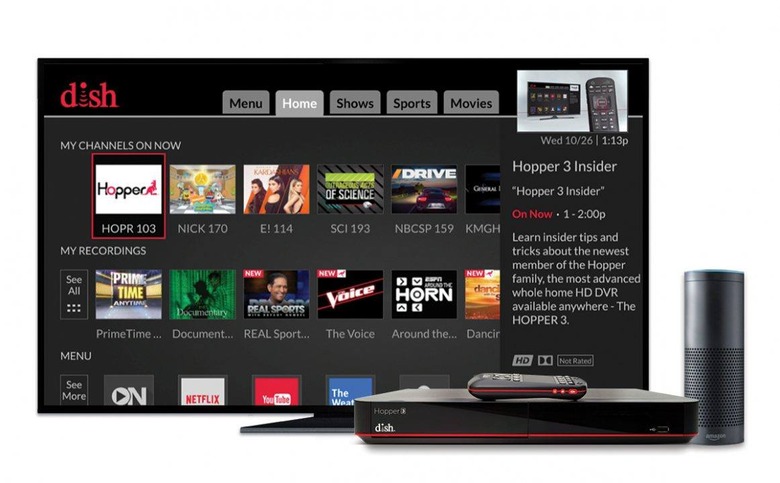 DISH announced its AirTV streaming device earlier in the day, but the CES 2017 reveals don't stop there. Chief among these reveals is a new Hopper skill for Amazon's Alexa devices, namely the Echo and Echo Dot. If you have one of those and a Hopper DVR, you'll soon be able to pair your DVR with your Alexa device and start channel surfing using voice commands.
You'll be able to change to a different channel by stating its name ("Go to ESPN," for example) or by stating its channel number ("Go to channel 150"). You can also have Alexa pull up on demand content for you, or tell her to find you a specific live broadcast if you know the name of the show you want to watch but aren't sure of the channel it's on.
There's no solid release date for this Alexa skill yet, but DISH says it will be coming sometime within the first half of 2017. Even better is the fact that it'll work with all Hopper DVRs regardless of their generation, so all of you Hopper customers will be able to get in on the voice-controlled action.
Possibly the most interesting DISH reveal of the day comes in the form of DISH Music. This is a new music streaming feature that turns your Hoppers and Joeys into music streaming hubs, playing music on the televisions throughout your house. At launch, DISH Music will be compatible with iHeartRadio, Pandora, TIDAL, Napster, Deezer, and Amazon Music.
You don't necessarily have to play your music through your TVs, though – if you have DTS Play-Fi-enabled speakers connected to the same wireless network as your Hoppers or Joeys, you'll be able to stream music to those as well. An iOS and Android app will allow you to play the same music throughout the entire house or set up zones where different music is playing, emulating other smart home speaker systems.
Of course, you can also control DISH Music though the set-top box, though you'll only be able to control the whole-home features from there. If you're not much of a music streamer, you can still use DISH Music to stream songs from your smartphone, which is a nice little touch. DISH says that DISH Music is rolling out now to customers with Hopper 2 and Hopper 3 boxes, and plans to have that roll out complete sometime in February.
Finally, DISH has also announced a new Sling TV certification process for streaming devices. This certification will distinguish devices that should offer an optimal Sling TV experience, and has a number of key criteria that manufacturers will need to meet. For instance, devices may be able to secure certification by auto-launching the Sling TV app on startup, by including it as a pre-installed app, or by making sure their over-the-air content integration is up to snuff.
Consideration is also given to devices that include Sling TV installation during set up, or to ones that can keep things speedy while within the Sling TV app. It's an interesting new certification, but for now, only two devices will have it: the previously announced AirTV and Xaomi's Mi Box. Expect to see more devices land this certification – which will be designated by an "Optimized for Sling TV" badge on the device's packaging – in the coming months.