DISH introduces AirTV, its new 4K Android TV-based streaming device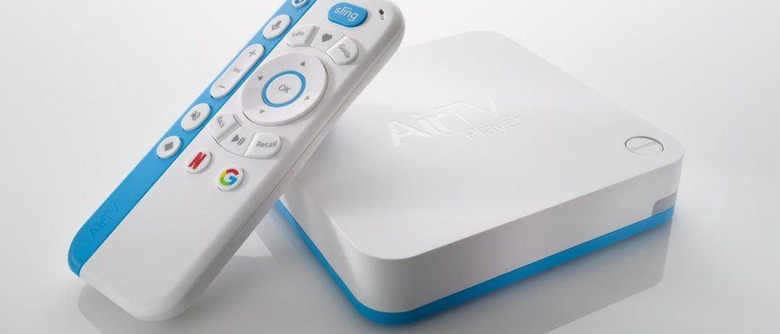 The market for media streaming devices is getting a little bit crowded, but that isn't stopping DISH from getting in on the action with AirTV. Based on Android TV, AirTV is a new streaming device that combines internet streaming services with over-the-air signals. That is, it combines the two formats assuming you have the right add-ons.
When you first unbox AirTV, it'll only be capable of streaming over the internet. In order to begin streaming local over-the-air channels, you'll need to attach an OTA antenna to the device using its AirTV adapter. That adapter isn't included with the base AirTV offering, though DISH is offering a bundle that packages the two together.
Even if you choose to skip OTA streaming, it sounds like AirTV will still make for a capable internet streaming device. The device itself comes with Netflix, Sling TV, and YouTube pre-installed, and since it uses Android TV, you can also buy and rent digital content or download new apps and games through the Google Play Store. AirTV's Bluetooth voice remote has dedicated Netflix, Google, and Sling buttons too, giving you easy access to those apps.
AirTV is 4K capable as well, assuming the app you're using to stream supports 4K content. It'll connect to your TV through HDMI and can connect to the internet through either WiFi or an wired Ethernet connection. AirTV is available now from AirTV.net for $99.99, though the bundle that includes the OTA adapter will run you $129.99. If you decide that you want to add OTA capabilities later on, a standalone adapter will cost $39.99, so you save $10 by purchasing them together.
Interestingly, AirTV doesn't stop at just offering a streaming device. Though a service called AirTV Pro, DISH is also offering antenna installation. You can schedule appointments through AirTV's website, and an AirTV technician will be sent to your home to determine the best location for your antenna and install it as well. Installation costs $99 for an indoor antenna and $149 for an outdoor one, but for the moment, this service is only available in 48 cities around the US. Expect that list to grow as we get further out from AirTV's launch.
SOURCE: AirTV