DirecTV NOW: 7 reasons to beware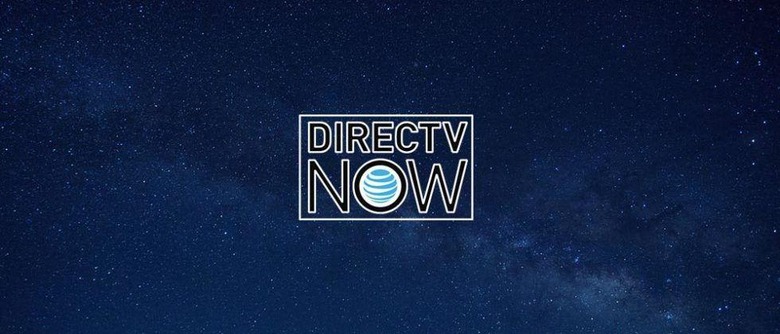 DirecTV NOW is open for business, and cord-cutters with a taste for live television have another option for their home entertainment. AT&T's play for Millennials – and indeed anyone who wants to trim their monthly spend on huge TV channel bundles from traditional cable TV providers – launches with a tempting $35 per month promotion and plenty of fanfare, but is it really the PS Vue and Sling TV eclipsing, Netflix replacing, Amazon Prime Video burying super-service DirecTV NOW would have you believe? Read on for the drawbacks and small-print.
It's $35 per month... until it's not
DirecTV NOW's big launch promotion is a very competitive $35 per month subscription. Considering that gets you more than 100 channels, it's not to be sniffed at, but the regular package for that content comes in significantly more expensive. In fact, the same tier of service will be $60 per month when the promotion ends.
AT&T hasn't said exactly how long its "limited time pricing" will run for. What we do know is that, even after the deal expires, you won't suddenly be charged $25 a month more: instead, you'll be locked into the promotional price. That's assuming you don't cancel, however, since if you take advantage of DirecTV NOW's month-to-month cancellation policy and then try to sign up again, you'll have to pay full price.
It's also worth remembering that AT&T has the right to change pricing on any tier at any point in the future, if it sees fit. Now, rate increases over time are a fact of life in home entertainment – just look at Netflix for evidence of that – but the turbulent state of content licensing and shifting exclusivity deals means there's no telling what AT&T might have to charge tomorrow for the same sort of content it offers today: or, indeed, for what it decides is a must-have bundle of channels.
Simultaneous viewers are limited
In the olden days of TV, a whole family gathered around a single screen in the living room. Now, you're more likely to have every person in the house – and some using the same account credentials while out at the nearest Starbucks or in their dorm room – watching something different on phones, tablets, laptops, or connected TVs. Unfortunately, DirecTV NOW doesn't really embrace that lifestyle.
Indeed, only two simultaneous logins are supported. That means you could be watching live TV in the living room via a set-top box, while someone else watches different channels on their iPad in another room, but nobody else in the family can access the service. It's unclear at this stage whether AT&T will ever loosen its grip, but for the moment other streaming providers have an edge for multi-person access.
Not every streaming box is created equal
At launch, there's a sizable list of compatible set-top boxes, adapters, and devices which are compatible with DirecTV NOW. If you have a Windows PC or Mac running Chrome, Safari, or Internet Explorer, you can log in via the browser; you can access it on your iPad or iPhone, and on Android phones and tablets. Amazon's Fire TV and Fire TV Stick are supported, as is Apple TV; Chromecast will support DirecTV NOW casting from Android devices from today, with iOS casting support penciled in for 2017. Finally, Google Cast on select Vizio and LeEco connected TVs is supported too.
That list does have some notable caveats, mind. If you're a Roku user, you'll have to wait until an unspecified point in 2017 in order to stream DirecTV NOW. Meanwhile, if you want 5.1 surround sound, you'll need to have either an Amazon Fire TV or an Apple TV: none of the other platforms support it.
4K is not on the menu...
...but it is on the roadmap. At launch, DirecTV NOW tops out at 1080p resolution, though AT&T isn't saying what sort of bitrates it's delivering video at, though up to 60fps is available, content depending. Exactly how good it'll look on your TV or mobile device will depend on how fast your internet connection is and the channel you're watching.
If you've got a 4K-compatible TV you'll be stuck with upscaling in order to make the most of all those pixels, at least for the moment. Still, a 1080p limit isn't particularly unusual among streaming providers. While Amazon embraced 4K with its most recent Fire TV box updates, Apple TV is still capped at 1080p, and of course you're still reliant on there actually being 4K content out there.
It's live only, no DVR
Remember the sense of power and convenience you felt, hitting pause on a live TV channel and then returning to it later (usually after raiding the freezer for ice cream)? Unfortunately it'll remain a memory while you're a DirecTV NOW subscriber, at least for the moment, since AT&T's service launches with no DVR support whatsoever. That's right: you can't pause and buffer a live stream, or set it to record a show while you're not watching live.
It's a stark contrast from what other providers offer. SlingTV pre-empted the feature's absence on its new rival by announcing a cloud DVR earlier this week. Sony's PlayStation Vue, meanwhile, already offers a 28 day cloud DVR.
AT&T says the feature is coming, but can't commit to exactly when that'll happen beyond sometime in 2017. For the moment, you're limited to what networks decide should be offered on the catch-up streaming, and that varies by show and provider.
The DirecTV Now channel lineup has some omissions
Where's CBS? If you're a fan of shows like NCIS, Elementary, and Criminal Minds, you won't find them on DirecTV NOW. CBS is the biggest of the missing names from AT&T's channel list, though it's not the only one as you can see below.
The good news is that you can add in two of the more popular channels, at least for a fee. HBO and Cinemax are both available as extra subscriptions atop whatever you're paying per month for the basic DirecTV NOW service; they'll cost you $5 apiece. That's a limited-time promotional price, mind, and it's uncertain how long AT&T will offer it.
"Live a Little" ($35/mo): A&E, AMC, Animal Planet, Audience Network, AXS TV, Baby First, BBC America, BET, Bloomberg TV, Bravo, C-SPAN, C-SPAN2, Cartoon Network, CMT, CNBC, CNN, Comedy Central, Crime & Investigation, Discovery, Disney Channel, Disney Junior, Disney XD, E!, ESPN, ESPN2, Food Network, Fox Business Network, Fox News Channel, Fox Sports 1, Freeform, FX, FXX, Galavision, Hallmark Channel, Hallmark Movies & Mysteries, HGTV, History, HLN, Investigation Discovery, Lifetime, MSNBC, MTV, MTV2, National Geographic Channel, Nick Jr., Nickelodeon/Nick at Nite, Pursuit Channel, RFD-TV, Spike, Syfy, TBS, TCM, TeenNick, TLC, TNT, truTV, TV Land, Univision, USA Network, Velocity, VH1, Viceland, WE tv, WeatherNation
"Just Right" ($50/mo): Big Ten Network, CNBC World, Comedy TV, Cooking Channel, ESPNews, ESPNU, Fuse, Fusion, GSN, IFC, LMN, MLB Network, NBC Sports Network, Nicktoons, OWN, Science, SEC Network, Travel Channel, UniMás, Weather Channel, WGN America, plus everything in "Live a Little" excluding Hallmark Movies & Mysteries"Go Big" ($60/mo after $35/mo promotion): American Heroes, BBC World News, Centric, Destination America, Discovery Family Channel, Discovery Life, DIY Network, FM, Fox Sports 2, FX Movie Channel, fyi, Golf Channel, Great American Country, Logo, MTV Classic, Nat Geo Wild, NBA TV, NBC Universo, NHL Network, Oxygen, Revolt, Sprout, SundanceTV, Tennis Channel, TVG, plus everything in "Just Right""Gotta Have It ($70/mo): Boomerang, Chiller, Cloo, El Rey Network, Justice Central, eight Starz Encore channels (Action, Black, East, Family, Classic, Suspense, West, Westerns), Univision Deportes Network, plus everything in "Go Big"
Sports fans may be disappointed
The biggest, baddest news is that NFL Sunday Ticket and the Red Zone channel aren't on offer. ESPN, NBA TV, NHL, and NBC Golf are included in the promotional $35/mo plan, though after that reverts to its regular $60/mo fee you'll likely need to cough up at least $50/mo for live sports content as a new sign-up. Just because a channel you get is broadcasting a game, though, doesn't mean you'll necessarily be able to watch it, as prior exclusivity deals could mean you get nothing but a black screen.
On top of the national networks, there'll also be regional sports networks depending on package. Unsurprisingly, exact content included will depend on where you live. If you want to know exactly which regional sports will be offered in your particular area, you can compare you ZIP code with DirecTV NOW's list of agreements, below:
Wrap-Up: Is DirecTV NOW a wash?
It's too early to call time on DirecTV NOW – after all, the service only launched to subscribers today. All the same, you'd be forgiven for taking a wait-and-see approach. Much of what many subscribers might consider table stakes for a cord-cutting service, like DVR support and 4K streaming, aren't expected until sometime next year.
Problem is, then you miss out on locking down the $35/mo package, and without that AT&T's service starts to look a lot more like traditional cable TV only delivered in a slightly different way. That fact that, if you don't have AT&T internet service, your TV viewing will count against whatever broadband data cap is in effect is another consideration. In short, this isn't the death-knell for cable TV that DirecTV NOW's breathless marketing message would have you believe.
MORE DirecTV NOW