DigiFi Digital Opera S5 Review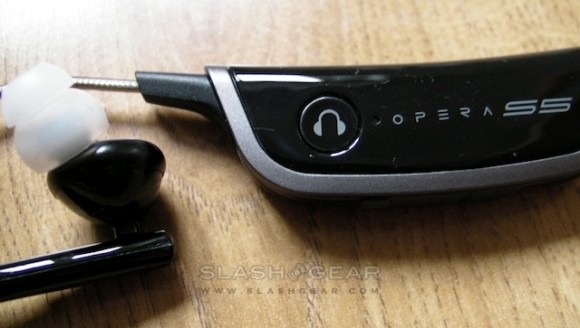 Awareness of the Kleer wireless alternative to Bluetooth A2DP is slowly growing, and the market for entry-level headphones (as opposed to, say, Sleek Audio's range) is broadening. Into the fray comes DigiFi's Digital Opera S5's, intended specifically for iPod owners. Mediocre sound quality let DigiFi's S2's down; can the reworked S5's pick up the slack?
If you the S5 headphones look familiar, that's because they're identical in design to DigiFi's Digital Opera S2 set which we reviewed back in January. The earbuds themselves are tethered to a small receiver/power box, intended to hang at the back of your neck; there's a USB charging cable to power it up. Where the two sets differ is in the transmitter: while the S2's came with a generic dongle that plugged into a 3.5mm headphone socket, the S5's come with an iPod-specific dongle that slots into your Apple PMP's dock connector.
While that limits the S5's to an Apple-owning audience, it also means DigiFi can add in some remote control support. Whereas on the S2's one set of earbud buttons controlled volume and the other toggled the "3D" DSP on and off, the S5 earbuds control volume and track control. Since the dock connector provides power, there's no internal battery in the transmitter either; that means one less thing to remember to charge up, which we're always grateful for.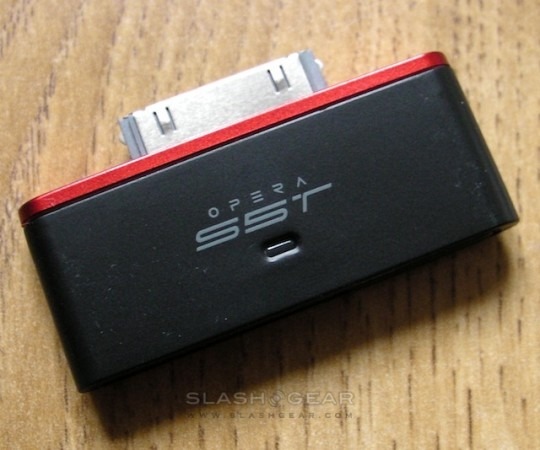 DigiFi supply the transmitter/receiver pre-paired, but there are instructions for associating one or both with other existing Kleer-based kit in the box. Similarly you can pair up to four receivers with a single transmitter, so that multiple people can listen in. If you picked up one of the D&A RX1 iPod speaker-dock adapters we reviewed in February, you could easily cut the cord between your iPod and its speakers, but still leave yourself able to turn on some headphones for private listening.
As we said of the S2's, Kleer's selling point is that the audio it transmits is CD-quality (16-bit, 44KHz) rather than the lossier audio you'd get with Bluetooth A2DP. However, that also means you're at the mercy of the earphones themselves for the eventual sound quality; we went away disappointed with the performance of the Digital Opera S2 set. However, we were told that along with the new iPod functionality, DigiFi had reworked the S5's to improve audio quality, and official resellers WireFreeHifi bundled a set of Comply ear-tips (which they sell as accessories) which they promised would make a real difference to audio quality.
To be fair, with the regular tips DigiFi provide, the S5's do sound better than the S2's. They still lack the richness of bass we'd prefer, and there's a lack of top-end sparkle, but it's not quite so muddy as the previous headphones. Swap out the standard flanged rubber tips for the Comply foam buds and things improve again, primarily because more outside noise is removed. They're also comfier and feel more secure in your ear canals, which made us more confident about jogging and exercising while wearing them.
A single charge of the receiver is rated for up to 10hrs of playback, and we found – when we didn't attempt to stretch the 10m wireless range – we could manage 8-9hrs of solid use. As with the S2's you can't use the S5's while recharging them, however, a process which takes around 2.5hrs.
While the DigiFi Digital Opera S5's are obviously narrower in their scope than the S2's, the improvement in audio quality and the ability to control iPod playback add up to a better experience overall. Priced at £85/$129 they're not cheap for headphones, and a wired set – at the same cost – will likely give you better audio quality; still, now at least there's a better balance between performance and the useful freedom of cutting the cord. We can recommend them now, something we couldn't with the S2's, just make sure to budget an extra £6.25/$9 for the Comply foam tips.