Dell's new all-in-one PC sure looks a lot like the Surface Studio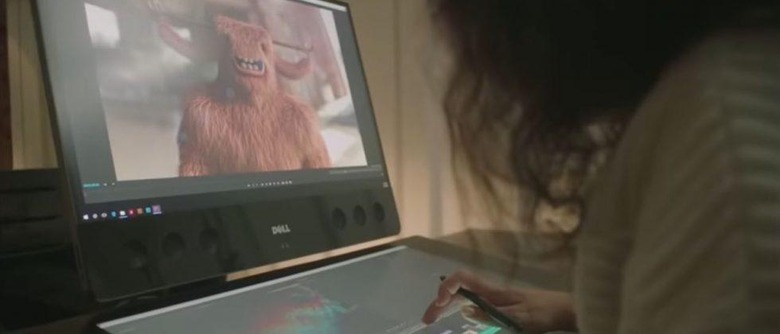 There isn't much question that Microsoft turned some heads when it revealed its new Surface Studio last week. It would seem, however, that it didn't just catch the attention of consumers, but also competitors. Dell has teased a new all-in-one PC today, and if imitation is a form of flattery, then Microsoft must feel pretty good about itself right now.
In fairness to Dell, this new all-in-one does seem to have a pretty major feature that sets it apart from the Surface Studio: a second screen. While the Surface Studio has one display that can be adjusted depending on the task at hand, the Dell PC features a second display that lays on a table, offering creative types something reminiscent of an artist's desk.
We don't get to see much of the computer in this teaser trailer, which was revealed today at Adobe's Max conference. However, we do get to see a tool that's instantly familiar – Dell's version of the Surface Dial. The Surface Dial is a device meant to go hand-in-hand with the Surface Studio, offering users another input method that brings up tools like radial menus when placed directly on the display.
Dell's dial seems to do something similar, and is likely based on the Surface Dial tech Microsoft has developed. Dell's AIO appears to be targeting the same demographic as the Surface Studio, just with a somewhat different approach on the display side of things. Despite the jabs I've taken at Dell for this PC's similarities to the Surface Studio, it does look like a cool machine that's worthy of some attention based on the dual-display approach alone.
What we're seeing here is all we're getting for the time being, though. Dell isn't willing to share pricing or specifications just yet. Now that this teaser is out in the open, it presumably won't be much longer until Dell gets down to brass tacks and shares some more specifics about it, so stay tuned for those.
UPDATE: A Dell spokesperson gave us the following statement – sounds like we'll have to wait until CES in January 2017 to find out more:
"At the start of Adobe MAX, Dell energized the audience with a sneak peek of its smart desk concept in action, teasing its innovative functionality and the exciting potential it will bring to creators everywhere. A full-horizontal touch display designed to work across a variety of systems, the device provides an immersive workspace for creators to build and interact with their content more naturally using pen, totem and touch. It's a new category of computing designed specifically for creators and nothing like it exists on the market today. Envisioned originally in 2014, we're excited to officially unveil it and more at CES 2017."
VIDEO: MSPowerUser
SOURCE: The Verge