Microsoft Surface Studio AIO goes toe-to-toe with iMac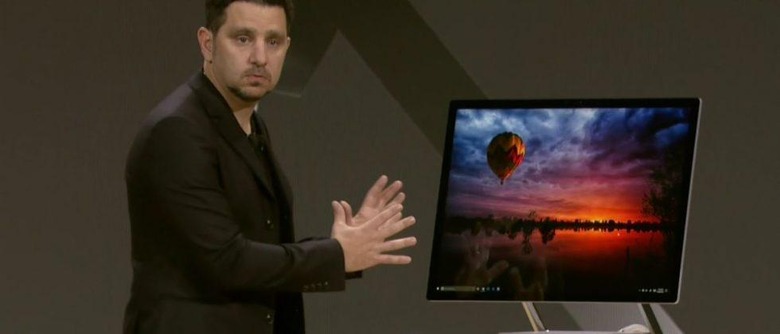 Microsoft today announced a new device in the Surface lineup, introducing the world to the Surface Studio. Surface Studio is an all-in-one PC that's looking to get into the thick of it with the iMac and other computers in its class, and Microsoft is coming to the fight with a lot of hardware backing it up. First and foremost is the 28-inch PixelSense display, which offers support for over a billion different colors.
It also comes packing 13.5 million pixels, which Microsoft points out is 63% more than a 4K TV. Like its Surface tablet and Book counterparts, the Surface Studio will offer touchscreen compatibility, with a 1.3mm thick LCD and a 12.5mm touchscreen. In fact, Microsoft says that this is the thinnest desktop monitor ever created, put together with a forged aluminum enclosure.
With the chrome arms that hold the display up, users can adjust the monitor's position to the point where it emulates an artist's table. You can see that functionality in the video posted below. Microsoft says that those chrome arms were designed in a way that they reflect the environment around them, allowing designers and creators to get more immersed in their work, regardless of the position of the monitor.
A monitor like that doesn't leave a whole lot of space for hardware, which has been moved into a box on the stand. That box is packing a surprising amount of power, with Microsoft equipping the Surface Studio with a quad-core Intel Skylake Core i7 processor and a NVIDIA 980M GPU. Those will be working in tandem with 32GB of RAM and a 2TB hybrid hard drive.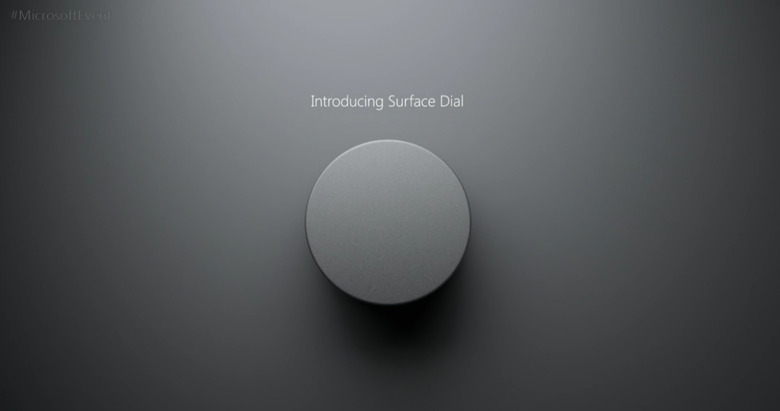 Microsoft is also launching a new accessory called the Surface Dial. The Surface Dial will be compatible with not only the Studio, but also the other products in the Surface family. The Surface Dial can be used both on and off the display, functioning as sort of a navigation tool when used off the screen and opening a radial menu that give users more options when used on the screen. Microsoft says it has worked with a number of partners to refine the Surface Dial, so it sounds like a lot of work went into this particular accessory.
It's interesting to see Microsoft make a play for the All-in-One space, and so far the Surface Studio is shaping up to be a pretty impressive device. Details on pricing and release are likely coming up soon, so stay tuned for those.